Allen Iverson Takes His Game To Turkey
Added on Oct 29, 2010 by Jason Kearney in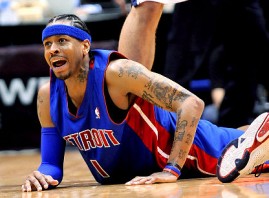 Allen Iverson is once again 'The Answer'–at least in Turkey.  Having played himself out of the NBA, A.I. is following the lead set by locker room cancer Stephon Marbury and selling his services to a foreign team as a sideshow attraction.  He's agreed to a two year, $4 million deal with the Turkish professional team Besiktas and will join the squad in early November.
It's been a strange ride for Iverson from his time in Philadelphia where he was simultaneously the poster boy for everything right and wrong with the NBA.  The bad–A.I. was disdainful of practice, notoriously difficult to coach and bought into all of the cliches of pro sports success including making a rap album.  Even his *mom* had an entourage.  The good–on the court he played his ass off no matter how many injuries he suffered and in his prime was a scoring machine.  Not a silky smooth picture of perfection like the great George Gervin, but a player who fought and in many cases literally bled for every point he scored.
His fall from the 2001 NBA MVP to a player that generated no interest from NBA clubs in the off season is downright phenomenal.  For that reason, A.I. is fortunate that anyone, anywhere wants to pay him big money to play ball.  Iverson's manager, Gary Moore, said his client is thrilled at the opportunity:
"He's ecstatic. He's very excited, very happy the people in Turkey want him, the people in Turkey appreciate what he brings to the game, and he can't wait to get over there."

"The interest the people from Turkey have shown leaves us nothing to feel but very, very optimistic. I don't see why they wouldn't be. Look at everything Allen has done in his career. Look at the way he plays the game. I can really understand the people of Turkey being happy about getting a player of Allen's stature."
Less enthused is NBA coaching great Larry Brown, who had as good of a relationship with Iverson as anyone:
"What he's accomplished, I don't think you want to see him end his career this way."
It'll be interesting–oddly enough, Stephon Marbury seems to be a good fit in China.  He recently signed a three year deal to remain with the Shanxi Zhongyu Brave Dragons and the team is setting up a company to market his shoes.  On the other hand, it could just be a dose of reality since I'd be more welcome on a NBA roster at this point than the considerably more talented Marbury.   Iverson doesn't want to take a subordinate role with a NBA team as so many other aging superstars have in the past (like Shaq in Boston) so short of joining the Harlem Globetrotters this is probably his best option.
No Comments