NBA Betting Odds: Utah Jazz at Portland Trailblazers
Added on Nov 20, 2010 by Jack Thurman in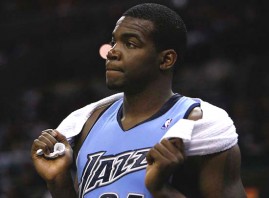 Big game for a pair of Northwest Division contenders as the Utah Jazz take on the Portland Trailblazers at the Rose Garden.  Portland, Utah and Oklahoma City are in a three way battle atop the division–all three teams have 8 wins, but with one fewer loss the Thunder currently hold a 1/2 game lead over the Jazz and Blazers.  Utah is off a home loss to San Antonio on Friday night, while Portland beat Denver on Thursday.
Utah Jazz at Portland Trailblazers
November 20, 2010  7:00 PM Pacific
We'd expected Utah to beat San Antonio on Friday night but the fact that they loss sets up this play even better. Watching the Jazz now evokes a real sense of 'deja vu all over again' and not only because of their ageless head coach Jerry Sloan. The Jazz were built around a dominating point guard/power forward tandem for years in the John Stockton/Karl Malone era, and they look to be heading in that direction once again. They've already got the point guard—Deron Williams is one of the best in the league at position—and they've may have found the power forward. Ironically, Paul Millsap is a product of Malone's alma mater (Louisiana Tech) and he's starting to play to the similar high level that 'The Mailman' did for years.   Millsap is averaging 21.7 points and 9 rebounds per game and has plenty of help—the Jazz may have more depth and better balance than at any point in recent memory, with five players averaging double figures.
The Blazers have struggled with injuries this season, but so far haven't been hurt too badly thanks to their depth and versatility. They were already very thin up front with Greg Oden and Joel Przybilla out of the lineup. The team signed veteran center Fabrico Oberto hoping to shore up the position only to have him suddenly retire a few games into the season due to a heart ailment. More problematically, shooting guard Brandon Roy has struggled with knee problems all season and will almost certainly  miss this contest. Portland has received a boost from the continued solid play of Marcus Camby and Andre Miller along with some surprisingly strong efforts from Nicholas Batum and Wesley Matthews.
Historically, this series has shown a very strong bias toward the home team dating all the way back to when Portland played at Memorial Coliseum and Utah at the Salt Palace. At one point we'd have been concerned about the Jazz playing in the second of back to back games following a tough home matchup against San Antonio. We'd also worry that the Blazers' speed and athleticism would have them pushing the tempo and running the Jazz off the court.
Things are different this year, and the Jazz have shown a remarkable poise not only on the road but in back to back spots. Even with the considerable talent of Camby in the Portland lineup, Utah should be able to control the paint with their size and depth in the frontcourt. The Blazers will have already played one tough game against Denver without their superstar shooting guard Roy, and we're not sure that they can keep up the intensity in a more difficult tactical matchup against the Jazz.
Bet Utah Jazz +3′ over Portland Trailblazers
No Comments