Jenn Sterger Set To Talk To NFL About Favre's Naughty Text Messages
Added on Oct 31, 2010 by Jason Kearney in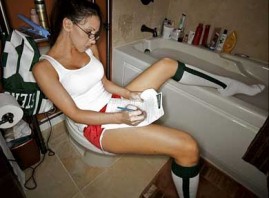 Jenn Sterger hasn't had much to say since the Brett Favre 'sexting' scandal began, but that may be about to change.  According to her attorney Joe Conway there is  a 'strong probability' that she'll meet with the NFL next week to give her version of events.  
Here's what Conway told ESPN:
"There is a very strong likelihood that Ms. Sterger will agree to meet with the NFL in their ongoing investigation. I expect that such a meeting will take place late next week at an undisclosed location."
While I wouldn't expect anything huge to come out of her meeting in the short term, this isn't good for Favre and the NFL.  She reportedly will contradict Favre's statement that he didn't send her the now infamous schlong photos of 'The Lil' Gunslinger'.  Really, it was inevitable that she'd talk to the NFL once she 'lawyered up' and hired legal representation.  The prevailing wisdom is that she's going to threaten to sue Favre and the Jets, likely on the basis of workplace sexual harassment.   To do this convincingly, she's got to give the impression that she's willing to help the NFL who are presumably interested in preventing this type of behavior in their workplaces.
She's also going to reportedly name the Jets' executive who gave Favre her phone number.  As we reported earlier this month, this is likely PR manager Jared Winley.  It's still likely that Favre and/or the Jets are going to scratch out a check to Sterger and make this go away but her talking to the NFL and threatening legal action makes it all more seemly.  It's one thing to pay 'hush money', but it looks much better to 'settle a legal action'.
Favre didn't exactly help his cause with the boneheaded assertion that he 'sent her dirty texts but not dirty pictures'.  It doesn't take an Interpol agent to realize that its easy enough to determine what phone number the texts and pictures came from.  Favre could always say that someone else had access to his phone which at this point would be very difficult to prove one way or the other.
At this point, the NFL has a vested interest in letting Favre quietly retire.  Sterger has a vested interest in using this situation to her best advantage financially and otherwise, and who can blame her?   What'll probably happen now is that the NFL will try to delay coming up with a conclusion to their investigation until after the season ends.  That way even if Favre did something wrong, they can't suspend him since he'll (presumably at least) be retired.  They can always defer and say that they're 'waiting for the legal process to take its course' before they come to a decision.
5 Comments