Panthers' DeAngelo Williams Likely Out Against Rams
Added on Oct 30, 2010 by Jason Kearney in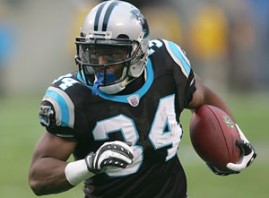 The Carolina Panthers finally got one in the win column last week, but they may have lost starting running back DeAngelo Williams–at least for the time being.  Williams limped off the field in the closing moments of Carolina's win over the San Francisco 49ers last Sunday and hasn't practiced all week.  The Panthers haven't been particularly forthcoming on what's wrong with Williams, but it's being reported as an 'unspecified foot injury' and we all know how painful those can be.  He's officially listed as 'doubtful' on the injury report but every indication is that he won't play.  Panthers' coach John Fox has maintained that he's a 'game time decision' but there's not much to suggest that he'll be in the starting lineup on Sunday.
The good news for Carolina is that they've got good depth at the running back position.  Jonathan Stewart will likely get the start and although he's struggled to regain his 2009 form after off season Achilles tendon surgery.  He's got 148 yards on 50 carries this year, but that's way off his pace of last year when he and Williams both rushed for 1100+ yards.  Williams is Carolina's top rusher with 361 yards on 87 carries.  Mike Goodson should also get some carries with Williams on the shelf.
The Panthers are hoping that Stewart will turn in a similar performance to the ones he turned in last year when Williams was out of the lineup–in three starts without Williams last season he averaged 150 yards in three Carolina victories, including a team record 206 yards against the New York Giants.  Fox is confident about his running back situation despite Williams' injury:
"We went through it last year both ways. There's games where Jonathan couldn't play, and games that DeAngelo couldn't play. Regardless of what position on the football team, the next guy's got to step up. We've had a few of those already this year."
With the exception of Williams' injury, the Panthers are healthier than they've been all year.  Right tackle Jeff Otah is still out following off season knee surgery and reserve wide receiver Devin Thomas is listed as 'doubtful'.  There's also a good chance that wide receiver Steve Smith will be again used to return punts as he did against the Niners last week.
No Comments