Texans Go On A Search And Destroy Mission For Performance Enhancing Drugs
Added on Oct 30, 2010 by Jason Kearney in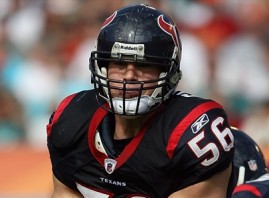 The Houston Texans have taken a unique and proactive step to prevent their players from using performance enhancing drugs.  In a move right out of junior high school, they went on a 'search and destroy' sweep of players' lockers hunting for anything that wasn't explicitly approved by the NFL.  The Texans have already had two players–Duane Brown and Brian Cushing–serve four game suspensions for violating the NFL's 'banned substances' policy.
Houston owner Bob McNair had this comment on the sweep, which took place approximately a month ago:
"We concluded that one thing we can do is to just go through the locker room and make sure that if anybody is using anything, it's a product from one of the approved manufacturers. That's about all that we can do."
McNair originally suggested the idea to General Manager Rick Smith who signed off on the plan:
"It was a collaborative effort of us trying to figure out what can we do, to make sure we're doing everything we can. They're grown men and they're going to do what they're going to do. But we're trying to educate them and help them. You can't control everything, all the time. We're trying to do everything we can as an organization."
The move hasn't generated many comments from Texans' players, though Duane Brown doesn't have a problem with it and thinks that the team management is within their rights to do such a search:
"Everyone is responsible for what they put in their bodies. But I definitely think it will help guys out, and make them realize what's right and what's wrong. I'm sure it will be effective."

"Whatever you decide to bring into this stadium, whatever you decide to have in your locker, I feel like they have a right to know. There are a lot of things out there where you feel like it's perfectly fine. Some things you could be taking, you could've taken for a while, and it can just come up one time and get you."

"I think they have the right to do that."
It'll be interesting to see if the NFL Players Association agrees with Brown's take.  So far they've only given a 'no comment' on the search.
No Comments