Champion Edgar To Defend Title Against Maynard at UFC 125
Added on Sep 30, 2010 by Bill Jackson in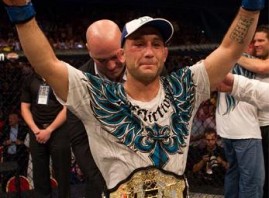 There's no doubting the UFC lightweight champion now. After winning every round in the rematch against UFC great B.J. Penn, Frankie Edgar is as bona fide a champion there is. The next step? Avenging his one and only career loss to Gray Maynard. And he will get the chance to do so on New Year's Day at UFC 125.
Maynard was already considered the top contender by many in the sport, but he solidified his standing as next in line by shutting out Kenny Florian at the same event that Edgar beat Penn for the second time. Maynard is the only man to beat Edgar and did so back at Ultimate Fight Night 13 by out-wrestling the better boxer and repeatedly slamming him to the canvas. Since then, Maynard has piled on five more wins in the UFC, all over elite level lightweights. The only drawback? Fans usually choose his fights for a bathroom break or grabbing another beer. In other words, he wins and doesn't care what anyone thinks about it.
Surprisingly, Maynard is already listed as the favorite against the champ. One might think that after Edgar shut down Penn for five rounds that he would be looked at in a different light, but the consensus view is that Maynard is too big and strong, and can always rely on his ability to put Edgar down if the stand-up isn't going his way.
Still, there are many picking the champion as well. So, even if you hear criticisms of this being a hard fight to sell and that it won't produce the fireworks that casual fans depend on, it is a toss up and that should be enough to intrigue the real fans.
If Edgar defends the title against Maynard, avenging his only loss in the process, he will not be too far away from equaling Penn's lightweight championship resume. But will he ever get the respect that never alluded Penn? Time will tell.
No Comments