Las Vegas Lands UFC 126: Silva vs. Belfort on February 5th
Added on Dec 08, 2010 by Brian Blake in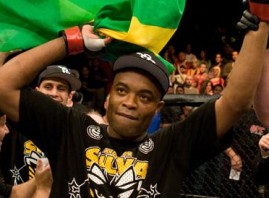 The UFC is great about taking its show on the road and delivering their product to MMA fans all over the country and world for that matter. That being said, Las Vegas is still the fight capital of the world and is more than deserving of an event like February's UFC 126 which will feature many of the sports biggest stars.
Sin City's Mandalay Bay Resort & Casino will play host to the star studded event which will feature long standing UFC Champion Anderson "The Spider" Silva as he looks to successfully defend his middleweight crown against Vitor "The Phenom" Belfort who looks to become just the third fighter to hold titles in two of the UFC's weight classes.
Silva's last performance took place back in August at the Oracle Arena where, after taking quite a beating, he was able to submit challenger Chael Sonnen in the third round of their thrilling fight.
Due to injuries suffered by himself as well as his potential opponents, Belfort was completely inactive in 2010 last stepping into the Octagon back in back in September of 2009 when he TKO'd Rich Franklin in the first round of their main event bout.
Former Light Heavyweight champ Forrest Griffin will be taking on Rich "Ace" Franklin in a three round co-main event bout which could very well catapult the winner into serious title contention.
After suffering back-to-back losses against Rashad Evans followed by the one sided bout with Anderson Silva, Griffin bounced back late last year with a split decision win over Tito Ortiz. Griffin was expected to take on Antonio Rogerio Noguiera earlier this year but was forced to withdraw with a shoulder injury ultimately sidelining him for the remainder of 2010.
Franklin headlined UFC 115 in June up in Canada where he stopped aging legend Chuck Liddell with just seconds remaining in the first round of their bout. Franklin was later awarded a bonus for scoring the knockout of the night.
UFC 126 will also include a bout between two of the brightest youngsters in not just the light heavyweight division, but the sport as a whole when MMA phenom and breakout star Jon "Bones" Jones steps into the cage with The Ultimate Fighter Season 8 winner Ryan "Darth" Bader.
Both Jones and Bader are coming off of impressive 2010 performances as Jones elbowed his way to victory in the first round against Brandon Vera and then again in August against Vladimir Matyushenko while Bader added two veterans in Keith Jardine and Antonio Rogerio Noguiera to his resume.
"UFC fans expect big things from us every year for our Super Bowl weekend show, and this year could be our biggest ever," UFC President Dana White said. "Anderson Silva vs. Vitor Belfort is a fight fan's dream match. It's a fight people have wanted for years. Don't blink because both of these guys have dynamite in their hands and can end the night quickly and in very exciting fashion. Plus, I can't wait to see Forrest Griffin and Rich Franklin mix it up; they're two former champions that are known for being in the middle of instant classics. And then we have the next wave of stars in the Jon Jones vs. Ryan Bader fight. Both of these guys are the future of our sport and possess unlimited talent. It's impossible to pick a winner here."
No Comments