Breaking Down UFC 133: The Main Event Rashad Evans Vs Tito Ortiz
Added on Aug 06, 2011 by John Petit in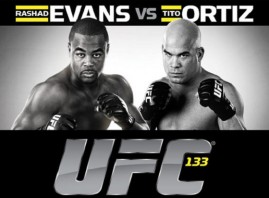 Rashad Evans
87% Fights Won
39% Striking Accuracy
53% Takedown Accuracy
Odds: -500
Reach: 75 In
Record: 15-1-1
UFC Record: 10-1-1
Last 5: 4-1
Streak: +2
Tito Ortiz
63% Fights Won
48% Striking Accuracy
44% Takedown Accuracy
Odds: +360
Reach: 74 In
Record: 16-8-1
UFC Record: 15-8-1
Last 5: 1-4
Streak: +1
In the first fight between Tito and Rashad at UFC 73, Tito was able to control Evans on the floor and out work him. Rashad was able to win one round, and when Tito had a point deducted for repeatedly grabbing the cage, the then undefeated Evans was able to escape with a Unanimous Draw to keep his record clean. Since the fight, both fighters careers had different trajectories. Tito Ortiz dropped 3 straight fights, and it would be 3 and a half years before he got another win (which happened weeks ago against Ryan Bader.) Evans continued rising, and after he put together wins over Michael Bisping and Chuck Liddell, he fought Forrest Griffin and won the Light Heavyweight Championship strap. Evans lost his next fight, the first of his career against Lyoto Machida, but has sense beating Thiago Silva and Rampage Jackson.
This fight was originally scheduled to be between Phil Davis and Evans, but a knee injury sidelined Davis. Even though Ortiz released a statement that he would not be taking the fight, after prodding by fans and the UFC, it was announced he would be taking it only weeks after his first win since 2006.  Tito is in a no lose situation, if he loses he lost to a number 3 contender after fighting 3 weeks ago. If he wins the fight, he will have completed the improbable come back story in UFC history.
In Evan's fight against Rampage, he was able to pick his shots and control him up against the fence. He was able to score key take downs, and win rounds. He fought a methodical fight, and frustrated Jackson for 3 straight rounds. Evans is a wrestler who has learned to strike, and can do it very effectively. The wild card in this fight is cage rust as Evans last fought in may of 2010 at UFC 114. Evans elected to wait on the shelf while Mauricio Shogun Rua recovered from knee surgery. During the wait Evans hurt his knee, and the title shot went to his training partner Jon Jones (who defeated Rua and became champion.)
I am far from sold on Tito Ortiz's comeback. He did beat a top 10 fighter in Ryan Bader, and he did it quickly. However, when its been 5 years since your last win, a 90 second win will never convince me you're back. Especially not against a number one contender like Evans. A jab, and an arm in guillotine submission just doesn't convince me that he can hang with a fighter like Evans. If Ortiz is going to win this fight, it will have to happen quickly, and I just don't see that happening.  Tito should be commended for taking this fight, but I don't see him winning. I wouldn't be surprised if Evans TKO/KO's Tito in the fight, but most likely Evans will take this one by decision.
No Comments