'Underdog' Tiger Woods Looks To Bounce Back At PGA Championships
Added on Aug 13, 2010 by Jack Thurman in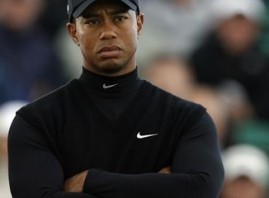 The final professional golf major of the year is underway as the PGA Championship is taking place at Wisconsin's Whistling Straits.  The PGA Tournament was first held in 1916 at the Siwanoy Country Club in Bronxville, N.Y and rotates among different courses throughout the United States.  Walter Hagen and Jack Nicklaus  hold the record for most PGA Championship titles, with five each, while Tiger Woods has won four times.
The PGA is the last shot for Tiger Woods to salvage what has to go down as one of the worst year's that anyone has ever had.  Unless you've been living on the moon, you're aware of his off the course distractions.  Any year in which you're the tabloid media 'man of the year' isn't a good one, but thankfully for Tiger it looks like the worst of the soap opera stuff is over.  The real problem is that he's played substandard golf this year–he's coming off the worst full tourney performance of his career at the WGC-Bridgestone Invitational where he finished 78th in an 80 player field.
Woods hasn't been on his 'A Game' this year, and as a result there's been a shakeup atop the golf betting odds for the PGA—for the first time in years, Tiger wasn't the pre-tournament favorite.  Phil Mickelson was the pre-tournament futures betting favorite, with Tiger the #2 choice.  Oddsmakers are looking for a wide open tournament and the betting odds on the two favorites reflect this with Phil Mickelson posted at +1200 and Tiger Woods at +1400.
The first round was called on account of darkness late Thursday and will be completed on Friday morning.  At the time play was stopped, five golfers– Bubba Watson, Francesco Molinari, Ernie Els, Matt Kuchar and Nick Watney—were tied atop the leader board at -4 under par.  Watson and Molinari had already completed their rounds, with the other three still on the course at the time of the suspension.
And Tiger?  He shot a -1 under par 71 but was generally happy with the way he played:
"To shoot something under par, that was the goal today. I've played too good not to shoot under par. It would've been very disappointing and frustrating to end up at even par as well as I played today. To make that putt — to shoot under par — just feels like that's what I should have shot the way I played today. And that's a good feeling."
Favored Phil Mickelson also finished at -1 under, though had to scramble to save par on a couple of holes.  The delay in finishing the first round means a late start for the golfers that completed all 18 holes on Friday, and also means that it's unlikely that the second round will be completed before Saturday morning.
No Comments