Baseball Betting Picks: Arizona Diamondbacks at San Diego Padres
Added on Sep 06, 2012 by Jack Thurman in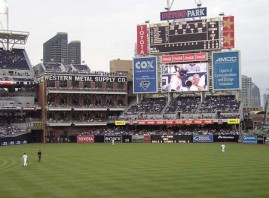 The Arizona Diamondbacks are still technically in the hunt for the NL West title as they enter this game 9.5 games back of first place San Francisco but they haven't been playing very well of late. Then again, neither has second place Los Angeles. For now, however, it looks like the D-Backs are fading in the stretch run and won't be making this postseason this year. Neither will San Diego, but that hasn't stopped the Padres from playing good baseball in the second half of the campaign. In fact, San Diego has been one of the hottest teams in the sport since the All Star Break.
Arizona Diamondbacks at San Diego Padres
September 7, 2012 7:05 PM Pacific
The Padres have cooled off somewhat from their torrid run of mid to late August, but they're still winning more than losing and piling up profits for baseball betting enthusiasts. San Diego has entered this game having won 8 of their last 12 and are solidly in the black after a dismal start to the campaign. Arizona, on the other hand, has struggled through a lackluster end to August and start of September losing 9 of their previous 13 games.
The pitching matchup today will be a good one as a couple of highly touted youngsters take the mound. Arizona will go with Tyler Skaggs who has a 2.60 ERA in his 3 starts this year. He's struggled some with his control (12 K's vs. 8 walks) but he's got the makings of a top flight big league starter. San Diego will counter with Andrew Cashner who has a 2.53 in 3 starts and control has definitely *not* been a problem–he's got 16 strikeouts against 3 walks in his starting assignments.
Given the disparity in recent form between the Padres and Diamondbacks it's hard to pass up the home team at a 'pick'em' price. Another divergent tendency of these teams has been their performance against opponents with losing records–the Padres have shown a solid profit against teams under the .500 mark while the D-Backs have lost money. In addition we'll go Under the total not only because of the pitching matchup and the 'pitcher friendly' venue at Petco Park but because of the head to head tendencies this year that have seen 7 of 11 meetings go Under including 5 of 6 at this venue.
Bet San Diego Padres (Cashner) -110 over Arizona (Skaggs)
Bet San Diego/Arizona Under 7
No Comments