Baseball Betting Picks: Atlanta Braves at New York Mets
Added on Sep 06, 2012 by Jack Thurman in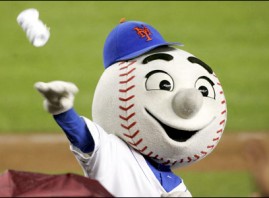 The Atlanta Braves were fortunate to get out of their series with the Colorado Rockies with 3 wins against a single loss. After splitting the first two games of the four game set Atlanta won the final two contests by identical 1-0 scores. Now Atlanta will continue their quest to run down the Washington Nationals on the road by facing a NL East also ran, the New York Mets. The Mets have started playing good baseball at the worst possible time–when they're well out of the postseason hunt. Still, they would love to put some more nails in the coffin of their longtime rivals.
Atlanta Braves at New York Mets
September 7, 2012 4:10 PM Pacific
Atlanta's offense has disappeared over the past few games–since opening the series with Colorado with a 6-1 victory Atlanta has scored only 2 earned runs in their last three games. Were it not for some stellar pitching performances from Mike Minor and Tim Hudson they could have been 0-3 in that stretch but they actually managed to win two of those games. Now they'll try to revive their anemic offense on the road against the New York Mets. The Mets have won 8 of their last 11 games and are now just one game behind Philadelphia for third place. That sounds like a bigger accomplishment than it really is, however, since they're also 19.5 games out of first place and 12.5 games back of second place Atlanta.
The home team could be in for a big day here, however, as they'll start lefthander Jon Niese–and the Braves have been horrible against southpaws this season. Atlanta is 25-29 against lefties but we can't get too excited about the Mets here since they've struggled against southpaws as well going 19-30 -9.6 units and they'll be facing the Braves' Paul Maholm. Maholm is coming off his worst start of the season but we've got no reason to think he's not going to quickly return to form.
With no interest in either side we'll look Under the total. 14 of the last 24 meetings on the Mets' home field have gone Under and with Atlanta's recent scoring drought and the struggles of both teams against left handed pitching runs could be at a premium.
Bet Atlanta/New York Mets Under 7.5 -110
No Comments