MLB Preview – LA Dogers take on St. Louis Cardinals
Added on Jul 19, 2014 by Jack Thurman in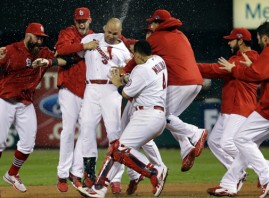 The Major League Baseball All Star break is over and the second half of the season is underway.  On Sunday night two teams looking to climb back into contention after a substandard start to the season will do battle as the Los Angeles Dodgers take on the St. Louis Cardinals in the 'Gateway City'.   The Dodgers started slowly after their torrid late season run last year but thanks to improved play and the struggles of the San Francisco Giants they're now tied for the NL West lead.  St. Louis has been mediocre at best all season but showed better form heading into the All Star Break and have pulled within one game of the NL Central leading Milwaukee Brewers.
Los Angeles has played better on the road than at home so far this season but according to SportsBettingAcumen.com, the reason they're sizable betting favorites in this game is because of the starting pitching matchup.  The Dodgers will start left hander Clayton Kershaw and if he's not the best pitcher in the National League he's definitely in the mix.  Kershaw carries a record of 11-2 into Sunday night's matchup with a 1.78 ERA and 126 strikeouts in 96 innings of work.  Making matters worse for St. Louis is Kershaw's recent form which is even better—he's allowed 1 earned run in his last 48 innings pitched and finished the month of June with a 0.82 ERA and 61 strikeouts in 44 innings of work.  Translation—he's pretty much been unhittable over the past couple of months.
The Cardinals' pitching staff has been bitten by the injury bug and the team has recently placed starters Michael Wacha and Jamie Garcia on the injured reserve list.  Wacha is expected back in a couple of weeks but Garcia is done for the year.  That hurts them here as they'll start right hander Carlos Martinez who has pitched fairly well this season but is coming off back to back poor starts.  He could have benefitted from the rest afforded by the All Star Break but even on his best day he's nowhere near the class of the Dodgers' Kershaw.
St. Louis has turned a small profit against left handers this season but that's not enough to make us get in front of Clayton Kershaw given his outstanding form.  Los Angeles has won eight straight Kershaw starts and are 6-1 in his road assignments.  Factor out the pitchers and this is a relatively even matchup and in most circumstances this might justify a look at the home underdog.  Unfortunately, it's impossible to justify playing against Kershaw until his form starts to deteriorate—which might not happen at all this year.
BET LOS ANGELES DODGERS -170 OVER ST. LOUIS CARDINALS
No Comments