Anderson Silva Vs. Vitor Belfort Headed for Super Bowl Weekend
Added on Oct 01, 2010 by Bill Jackson in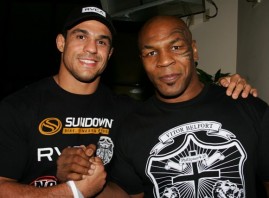 Though many were hoping for the next middleweight title defense from Anderson Silva to take place on the New Year's Day event, Vitor Belfort recently announced via his Twitter page that his challenge for the title will take place Super Bowl Weekend.
Belfort was originally scheduled to face Silva earlier this year at UFC 112, but was forced to withdraw due to an elbow injury. Since that time, Silva has defended his title against Demian Maia and Chael Sonnen, while Belfort has sat on the sidelines and waited for his opportunity.
Though by the time of the fight it will be over two years since Belfort has fought at middleweight, nobody can deny that Belfort has paid his dues as much as anyone in the sport. He has some very significant wins at 185 pounds and has been one of the most recognizable faces in the sport for over a decade. It is truly amazing that he is still fighting at this level.
Belfort most recently knocked out former UFC middleweight champion Rich Franklin all the way back at UFC 103 in a fight that took place at a catchweight of 195 pounds.The event will likely be UFC 127.
This will be a record eighth title defense for Anderson Silva.
No Comments