Breaking Down Strikeforce: Fedor Vs Henderson; The Main Event
Added on Jul 29, 2011 by John Petit in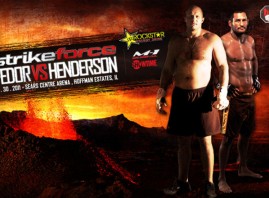 Heavyweight bout:
Fedor Emelianenko vs.  Dan Henderson
Fedor Emelianenko
Odds: -270
Reach: 74 In.
Record: 31-3 (1)
Strikeforce Record: 1-3
Last 5: 3-2
Streak: -2
Dan Henderson
Odds: +190
Reach: 74 in
Record: 27-8
Strikeforce Record: 2-1
Last 5: 4-1
Streak: +2
Anyone who has been watching MMA closely for more than five years wishes this fight was scheduled to happen years ago. In most cases when people make that statement it means the fight is a lot less intriguing. That isn't the case with Fedor Vs Henderson. While one can argue both of these fighters are on the down side of their respective career trajectory, I certainly don't see this fight being less interesting.
Fedor is coming off his first 2 real losses in his career when he was finished by Fabricio Werdum and Antonio 'Big Foot' Silva. Prior to that, besides a no contest against Antônio Rodrigo Nogueira for an accidental head butt, Fedor hadn't been defeated since 2000 and he rattled off 27 wins. His other loss was a TKO (doctor stoppage) due to cuts. Fedor is easily the most dominant heavyweight fighter in the history of Mixed Martial Arts, and he has already solidified his gold medal legacy in the sport.
Henderson is also in the legends of the sport category. Henderson has fought all over the planet. His only UFC losses were to number 1 pound-for-pound fighter Anderson Silva for the middleweight title, and Quinton Jackson for the unification of the light heavyweight belts from Pride and the UFC. His only strikeforce loss is to Jake Shields for the middleweight title in which he lost via unanimous decision. His other losses are all names you will recognize, and most would consider them all pillars of the sport. His momentum is undeniable, and he has finished his last two fights in devastating fashion. His last win, over Rafael "Feijao" Cavalcante, earned him the light heavyweight title.
Henderson is not the guy who is going to submit Fedor (like Werdum), and he isn't going to be the guy to pound him out (like Silva.) Most likely, Henderson is going to want to take this fight to the ground or press Fedor against the fence, and try to neutralize him while scoring points and wearing him out. If he sees Fedor tiring at the end of the fight, he may just try to to land that overhand right and knock him out. I don't see Henderson just trying to stand and trade with Fedor as he with Sobral or Feijao. Just because Fedor has put together back to back losses doesn't mean he isn't dangerous.
I give Fedor the edge in stand up and on the floor. Sure, Henderson has the better wrestling and can use it to dictate where the fight goes, but ignoring Fedor's 16 submission wins and his Sambo(1st Razryad Grand Master) gold medals is extremely short sited. Also, don't for get his black belt in judo under Vladimir Voronov. Fedor will be able to put Henderson on his back if he wants to, and he will be able to submit him as he was against Silva and both of the Nogueira brothers.
I see Fedor rising to the occasion in this fight, as this fight could represent his last fight in the cage if he ends up on the losing end. Make no mistakes, this is the most expensive fight ever put on in Strkeforce history (by a mile,) and both fighters know what a win represents at this point in their careers. I think Fedor will land a shot in the second round that will make Henderson revert to his wrestling, and shoot for a take down. At that point, I see Fedor either finishing him from side-back mount, or sinking in the hooks to take it by rear naked choke. No matter what happens, its really hard not to get excited about a fight like this.
No Comments