Breaking Down UFC 133: Akiyama Vs Belfort / Ebersole Vs Hallman
Added on Aug 04, 2011 by John Petit in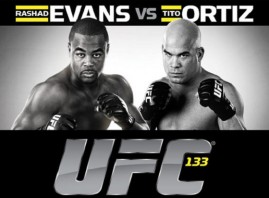 Vitor Belfort
65% Fights Won
49% Striking Accuracy
67% Takedown Accuracy
Odds: +250
Reach: 75 in
Record: 19-9
UFC Record: 8-5
Last 5: 4-1
Streak: -1
Yoshihiro Akiyama
72% Fights Won
39% Striking Accuracy
79% Takedown Accuracy
Odds: -340
Reach: 75 in
Record: 13-3-0 (2nc)
UFC Record: 1-2
Last 5: 3-2
Streak: -2
This is Vitor Belfort's third stint in the UFC, and everytime he gets close to the top of the mountain he falls short. I am not taking anything away from Vitor, as Anderson Silva has demolished just about everyone he has faced, but that is his most recent loss and is a recurring theme in his career. When Belfort is on, he is one of the most dangerous strikers in the game. Everyone thought he was going to be the striker to make Silva look foolish and check his chin 'for the first time.' When Belfort realized he couldn't compete with Silva on the feet, he dove in for a takedown that Silva recovered from. When Silva popped up, he connected with a viscous front kick KO (that had never been done in the octagon before) that left Belfort in a ball on the mat. That loss snapped a 5 fight winning streak that dated back to 2007.
Akiyama is coming off of two losses for the first time in his career. He is only 1-2 in his 3 UFC fights, but all three of them were Fight of The Night award winners. Prior to that, besides 2 no contests which he originally won, Akiyama hadn't suffered a loss since 2005. The 36 year old is a 3rd degree black belt in judo, and he has won the gold in Judo in 2001 and 2002 at the Asian games. He is an all around fighter, but he has won more fights on the ground than on the feet. Akiyama will look to close the distance and tie up Belfort, and look to toss him to the ground. if Akiyama is smart he will also attack the lead leg of Belfort in hopes of taking some of the spring out of his step.
Akiyama has the chance to control Belfort against the fence, or even take him down and submit him, but he will have to close the distance on him first. Belfort, when in top form, is quick on the feet and with his hands. I think that will be the down side for Akiyama in this fight, as Belfort takes a 2 round TKO.
Dennis Hallman
56% Fights Won
42% Striking Accuracy
28% Takedown Accuracy
Odds: -130
Reach: 72 in
Record: 43-13-2 (1Nc)
UFC Record: 2-3
Last 5: 4-1
Streak: +2
Brian Ebersole
100% Fights Won
56% Striking Accuracy
64% Takedown Accuracy
Odds: +108
Reach: 73 In
Record: 47-14-1 (1)
UFC Record: 1-0
Last 5: 5-0
Streak: +8
These two guys have 129 fights between them in what may be the highest combined total of fights between two fighters in the UFC history. They are as seasoned as it gets, and is honestly a sleeper match on this card that could prove to be the fight of the night. Ebersole has a tremendous amount of momentum coming into this fight. He has won his last 8 fights, and has won 12 of his last 13. Ebersole will be looking to use his wrestling against Hallman who has better jiu jitsu, and most likely will not be concerned with his stand up. Ebersole has never been knocked out in all of his fights and he routinely boasts about his iron chin. Ebersole has a solid Jiu Jitsu game himself, and has amassed 20 submission wins, but that is still 18 shy of Hallman's 38.
Hallman's BJJ game has been his go to for a long time, and he will be forced to rely on it as both guys have mediocre stand up games. Just like Ebersole has never been knocked out, Hallman has never been submitted. If Ebersole is going to win this one its going to be by decision, and although many feel he has overcome his cardio issues, it will be interesting to see if he fades late in the fight against a BJJ player as Hallman. Ebersole is susceptible to submissions, as he has been sub'ed 8 times.
Hallman will always be looking for the finish in this fight, and I think he will get it. Hallman may be in desperation mode when it happens as I think Ebersole will control him most of the fight. This fight could turn into two ground fighters stalemating each other, and we could see 3 rounds of these guys just throwing hands. However, I see Hallman winning via a late submission.
No Comments