Breaking Down UFC 133 Evans Vs. Ortiz: MacDonald Vs Pyle / Rivera Vs Philippou
Added on Aug 03, 2011 by John Petit in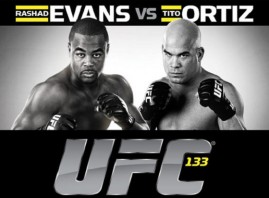 Rory MacDonald
67% Fights Won
42% Striking Accuracy
57% Takedown Accuracy
Odds: -280
Reach: 76.5
Record: 11-1
UFC Record: 2-1
Last 5: 4-1
Streak: +1
Mike Pyle
67% Fights Won
46% Striking Accuracy
26% Takedown Accuracy
Odds: +245
Reach: 74 in
Record: 21-7-1
UFC Record: 4-2
Last 5: 4-1
Streak: +3
This is gonna be the fight where Rory McDonald is definitley going to be tested. The 22 year old MacDonald has been making waves since he set foot in the octagon, and his only UFC loss is to welterweight contender Carlos Condit-which was a last minute knock out. MacDonald showed a tremendous amount of grow in his controlling win over Nate Diaz, and his win over Joker Guymon he displayed slick BJJ to earn an submission win via armbar.
Mike Pyle has the proverbial answer for the game that MacDonald is going to bring. He has the wrestling ability to stop the takedowns, and Pyle has the ability to muscle fighters around and bully them, and that goes a long way in the UFC welterweight division. Fighters like Hughes, Fitch, and even champion Georges St. Pierre have made careers out of doing that. Pyle is going to have to get on in the inside of MacDonald's reach and get this fight to the floor. It doesn't guarantee a win to a fighter like Rory, but the advantage certainly goes to Pyle.
MacDonald is going to be in a tough fight against a veteran cage savvy fighter like Pyle, and he will face adversity in this fight. I also think Rory will have to come from behind in this fight if he wants to win, and I think he can do that. I am picking MacDonald by late stoppage in the fight. If not a straight TKO from strikes, I can see him hurting Pyle and getting the rear naked choke.
Jorge Rivera
50% Fights Won
50% Striking Accuracy
50% Takedown Accuracy
Odds: n/a
Reach: 73 in
Record: 19-8
UFC Record: 7-6
Last 5: 3-2
Streak: -1
Costantinos Philippou
%'s N/A
Odds: n/a
Reach: 73 in
Record: 7-2-1
UFC Record: 0-1
Last 5: 3-1 (1 NC)
Streak: -1
Constantinos Philippou is stepping up from the under card to take on the veteran Jorge Rivera who desperately needs a win. Unless you have been following the RIng Of Combat promotion you probably don't know much about Philippou. His only UFC fight was a Unanmious Decision loss to Nick Catone, and since he is stepping up to the task, and taking this fight as a late replacement, I don't think he is in danger of getting cut and has nothing to lose. He has the ability to ring Rivera's bell in this fight, but he has to deal with a veteran in the game to pull that out. If he shows up with this type of attitude, and knows he could be leaving on his shield-thats the type of fighter who could pull the upset here.
Jorge Rivera was scheduled to fight American Top Team's Alessio Sakara for the third time, but the fight was scrapped again when a knee injury plagued the perennial injured Sakara. Rivera is coming off of a controversial loss to Michael Bisping in which he ate an illegal knee that the UFC believed was thrown intentionally. Being a game opponent, Rivera decided to continue, and was quickly put away in the next few minutes. To his credit, Many fighters would have stayed down. Rivera will have to use experience in the fight as he is facing a dangerous fight against a guy with not much to lose, and WILL take chances to win. Rivera was on a 3 fight winning streak before the emotion fueled Bisping fight with wins TKO wins over Quarry, Kimmons, and Osterneck respectively.
No Comments