Breaking Down UFC 133 The Spike Prelims: Hammill Vs Gustafsson / Mendes Vs Yahya
Added on Aug 03, 2011 by John Petit in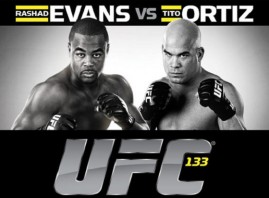 Matt Hamill
75% Fights Won
40% Striking Accuracy
35% Takedown Accuracy
Odds: +175
Reach: 76 in
Record: 10-3
UFC Record: 9-3
Last 5: 4-1
Streak: -1
Alexander Gustafsson
75% Fights Won
41% Striking Accuracy
43% Takedown Accuracy
Odds: -200
Reach: 76.5
Record: 11-1
UFC Record: 3-1
Last 5: 4-1
Streak: +2
Matt Hammill is coming off of his title eliminator fight against Quinton Jackson in which he put together one of the worst fights of career. When Hammill couldn't take Rampage down, it really seemed like he had no plan b. Before that fight Hammill was on a five fight win streak that included wins over Tito Ortiz, Mark Munoz and Keith Jardine. He is a grinder when he has to be, and he has the ability to TKO fighters. His last two wins have been decisions, but he also owns 6 ko/tko wins including a viscous head kick over Munoz.
Gustafsson is riding a two fight win streak after being handed his first career loss to Phil Davis. He has proven to be an exciting prospect who has the ability to finish fights on the ground as well as on the feet. He is a finisher, and he has only been to the judges scorecard in his 11 wins. He is well rounded, but he has only really had a big step up in competition once and he ended up losing.
I think Gustafsson  has a real solid future in the UFC, and even though he is real well rounded I don't think he has the experience and cage savvy to beat a guy like Hammill. Every time Hammill has lost in his career he has come back to finish his next opponent. Hammill will make Gustafsson fight his fight, and control him either to a TKO finish, or just squeak out a decision.
Chad Mendes
100% Fights Won
47% Striking Accuracy
63% Takedown Accuracy
Odds: -800
Reach: 66 in.
Record: 10-0
UFC Record: 1-0
Last 5: +5
Streak: +10
Rani Yahya
63% Fights Won
48% Striking Accuracy
30% Takedown Accuracy
Odds: +500
Reach: 68 in
Record: 16-6
UFC Record: 1-0
Last 5: 3-2
Streak: +1
Rani Yahya is coming off the biggest win of his career with a decision win over Mike Brown, and is taking a big step up in competition in taking on the undefeated Mendes. At 16-6, Yahya is a finisher! The second degree Brazilian Jiu Jitzu black belt has 14 submission wins out of 16. Yahya has adapted his bjj very well for cage, but he is currently 1-2 of his last 3 fights.
The 10-0 Mendes trains with Team Alpha Male and trains along side former champions Urijah Faber and Joseph Benavidez. Mendes has pretty much dominated every opponent he has faced with his wrestling, and has earned 6 unanimous decision wins. He won a decision against Omigawa in his first UFC fight after his successful WEC run. He has a top notch wrestling background and went 30-1 in senior year, only losing the NCAA championship match.
Yahya can fight off his back, and Mendes will put him there as it is just a matter of time. However, I don't see him being able to finish an opponent like Mendes who has proven to be able defend submissions while executing his top game. He will need to be careful as Yahya is a slick BJJ player, and handing Mendes his first loss would be huge for his career.  Mendes will use his wrestling to take all three rounds, and if he can do it standing up by holding Yahya against the fence he will.
No Comments