Former Champions Rich Franklin and Forrest Griffin To Meet at UFC 127
Added on Oct 06, 2010 by Bill Jackson in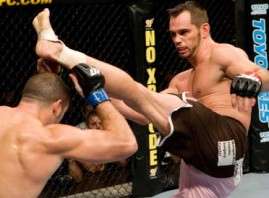 A light heavyweight tilt between former UFC middleweight champion Rich Franklin and former UFC light heavyweight champion Forrest Griffin is in the works for the Feb. 5 UFC card.
Rich Franklin first won the title from the late Evan Tanner in 2005, then defended it twice before losing it to current champ Anderson Silva. Franklin is coming off a stunning first-round knockout of fellow former champ Chuck Liddell at UFC 115.
Griffin won the light heavyweight title by split-decision from Quinton "Rampage" Jackson at UFC 86 and then lost it in his first defense against Rashad Evans at UFC 92. Most recently, Griffin won a split-decision over former champion Tito Ortiz.
Both fighters share an a common opponent in Anderson Silva, and both were knocked out brutally in the first round (Franklin lost by knockout in the second round as well in the rematch).
No Comments