Herschel Walker: The World's Most Recognizable 1-0 Fighter
Added on Jan 25, 2011 by Brian Blake in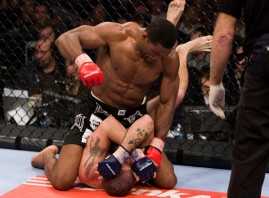 It could be his large stature. It could be the smile that seemingly never leaves his face. Most likely it's the fact that he's a former football great and 1982 Heisman Trophy winner that makes MMA fans flock to him anytime he's ringside for an event. Despite only being 1-0 as a professional mixed-martial artist, people are intrigued when he signs to fight.
At the age of 48, the athletically gifted Walker makes his second venture into the cage after just over a year of inactivity following his January 2010 3rd round TKO win over the much younger Greg Nagy during their clash in Miami. This Saturday night the former Pro-Bowler takes on Scott Carson on the Showtime televised portion of the event. Despite his obvious lack of experience of cage time in Strikeforce, Walker is no stranger to the sports and martial arts in general.
During a recent teleconference with the media he explained that, "I've been doing martial arts for about 33 years now. I started when I was in high school. I started in Tae Kwon Do and in college I really got heavily into it. I've always loved martial arts. MMA is something I've watched for years, even when it was somewhat of a Toughman competition. And then they started putting all the rules in it and I fell in love with it."
So much so that he dropped everything he had going on in his hometown of Dallas to relocate to San Jose, Calif. to join the fighters and trainers at AKA (American Kickboxing Academy) to see what he had to offer. While his stablemates have confidence in him, the rest of the MMA world view his foray into the sport with a healthy dose of skepticism.
"That's the way life is. Life is like that. We were talking about this earlier with Jay Cutler. What's strange about it is that fighters that are putting me down need to come to AKA and train with me. Then they'll see that this is not a gimmick for me. This is life. Everyone has a right to their own opinion. It's what makes America beautiful. But at the same time they have to come and see what I do. I invite anyone to come and see what I do. They have a right to their opinion. Some guys have put in a lot of time and I can understand if they think I'm taking their spot. But I want them to know that I'm not here to hurt. I'm here to help, not hurt. I don't want people to always agree with me. You shouldn't. If you think I'm a gimmick you can come to AKA and roll with my anytime. I'm not afraid to roll with anyone. All the guys here at AKA we roll with everyone so I'm not afraid of that.
"I don't think about the negative or the positive. I've never read an article about myself or looked at any criticism or seen a show about myself because I don't want to see the negative or the positive because I know who Herschel Walker is. I know what I've got to get done and I know what I need to do and the work I have to put in. That's why I work so hard. The most things I hear now is that Herschel's got to be on something. How can he look like that at his age? I say they can do anything they want to me or test me anyway they want to. They can see that this is nothing but hard work. I was taught that when I was a little boy from my parents and this is nothing but hard work. I've never turned down a challenge and I don't do it now."
Truth of the matter is that Walker doesn't know exactly how many challenges he has left in him. It all depends on any potential injuries and what his team back at AKA thinks at the conclusion of his upcoming bout with Carson.
"I really don't know. I don't really look that far ahead. I don't dream. I do reality things. I wanted to continue to train and continue to get better. And if another fight comes up then I'll ask my trainers and the other fighters in the gym if I should do it. When I first stepped into these doors if I couldn't compete with these guys then I wouldn't have even fought that first fight. I'm just taking it one fight at a time. Not that I'm going to be a surfer dude now living out here in California but it's one day at a time and make the best out of it.
"If I fight again we're going to step it up (level of competition) a little bit more. You have to realize that's I've only been in this sport a little over a year. Everyone's already wanting me to fight Randy Couture. I just got started. If you were going to ask me to run the 100 you wouldn't be asking me to run against Randy you'd be asking me to run against someone else. That's what people have to realize. You have to step up the talent to make it competitive. How competitive do you make it? I don't know. I hope the MMA world knows I'm a little bit better than a year-old fighter. I hope they know that. And this coming Saturday you'll see that."
Come Saturday night, once the final bell rings in Walker's fight with Carson, Walker might win, he may lose. It could lead to another fight or he might decide to call it a career. Whatever happens, all of the sporting world will be paying attention to the two sport phenom.
No Comments