Keith Jardine Win At Nemesis Surrounded By Controversy
Added on Dec 14, 2010 by John Petit in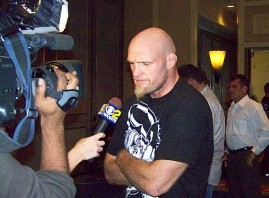 Seems like there is some MMA controversy coming out of Punta Cana, Dominican Republic. Nemesis MMA held an event called Global Invasion that featured UFC veteran Keith "The Dean Of Mean" Jardine versus Brazilian Jiu Jitzu ace Francisco "Kiko" France. According to Nemesis' web site, Jardine won via Unanimous Decision. This snaps Jardine's 5 fight losing streak. However, We are now hearing that things might not have been kosher at the fights.
Last night Bellator Champion Ben Askren tweeted about the event. "Just talked to Kiko he said nemesis was a complete mess. No judges. Jardine was greased. His check bounced. Doesn't get much worse." The only comment from Jardine so far, was a post on his web site. "Finally getting out of Dominican. Its looking like this thing has been a big scandal. Will be big news. Can't wait to get back to USA and figure this out."
As some of you know, this is NOT the first time a Greg Jackson fighter has been accused of greasing. Some fighters you might recognize from his camp that have been accused are UFC Welterweight Champion Georges St. Pierre, Nate Marquardt, Roger Huerta, Rashad Evans, and Diego Sanchez.
I am not sure if this is a sanctioned fight yet, and I only say that because of Askren's comments about no judges. Also, when you hear this quickly after an event that fighters pay checks are bouncing, its usually a bad sign that the event was a hack job. I am willing to bet there is a lot more to this story, and we will keep you posted at Sportsbettingworld.com .
Here are the results from the event:
Keith Jardine def. Francisco "Kiko" France via unanimous decision
Paul Buentello def. Kerry Schall via unanimous decision
Eliot Marshall def. Chris Davis via submission- arm bar, R1
Travis Marx def. Jeff Curran via unanimous decision
Terry Martin def. Marcus Hicks via KO, R2
Kyle Seals def. Dean Lister via TKO, R2.
John Dodson def. John Moraga via submission- arm bar, R2
3 Comments