Middleweight "Ruthless" Robbie Lawler Signs Multi-Year Agreement With Strikeforce
Added on Dec 30, 2010 by Brian Blake in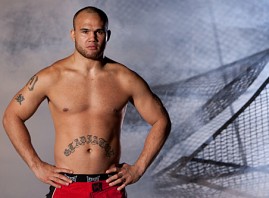 The execs at Strikeforce have kept themselves quite busy following Christmas considering that just one day after coming to terms with current welterweight champion Nick Diaz, they have also reached an agreement with former two time champion Robbie Lawler to a multi-year fight contract.
Lawler, who has been a pro since the age of 19, kicked off his young career with six consecutive wins all coming by way of knockout. The impressive start was enough for the UFC to extend him an invitation to compete on UFC 37: High Impact where he defeated Aaron Riley while going to the scorecards for the first time in his career. After a strong start in the UFC his career began to falter culminating in back to back losses to Nick Diaz and Evan Tanner marking the end of his run in the UFC in 2004.
Over the course of the next three years Lawler stayed busy touring the country before finding a home with the Elite XC where he became their Middleweight Champion with a KO win over Murilio "Ninja" Rua.
Lawler's Strikeforce journey began just under two years later when he submitted in the first round by eventual middleweight king Jake Shields in the first round. It's safe to say that his time as a Strikeforce fighter has been inconsistent to say the least as he's yet to put together more than one win at a time.
His last outing took place earlier this month in St. Louis where he produced a highlight reel knockout against Matt "The Law" Lindland with a single shot that folded his opponent like a greeting card just 50 seconds into the bout.
Despite the sporadic results of Lawler, Strikeforce feels that they have a star worth investing in. While the specifics of his new deal haven't been made public, one thing that is for certain is that he'll be taking on Ronaldo "Jacare" Souza for his newly acquired Middleweight Championship on January 29 at the HP Pavilion in San Jose, Calif.
In the span of a few years Lawler went from hopping from state to state taking part in various promotions to now finding a home within Strikeforce where in just a months time he'll be vying for a major championship. It's safe to say that the Ruthless one has plenty to be happy about.
"Strikeforce has treated me good and I am happy to re-sign with them," said Lawler. "They have given me an opportunity to fight for the title and I'm looking forward to that and to fighting any and all of the top 185-pounders.''
No Comments