Official SportsBettingWorld Middleweight Rankings
Added on Oct 05, 2010 by Bill Jackson in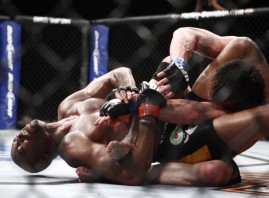 The middleweight division has been making headlines as of late for both the right and wrong reasons. The right being a ton of top level matchups being scheduled for the coming months including champion Anderson Silva's defense against Vitor Belfort and Nate Marquardt meeting Yushin Okami to decide the next challenger. The wrong being Chael Sonnen's positive steroid test and subsequent declaration that he would appeal the commission's ruling. Still, the division is hot right now, and I do think that Sonnen had a lot to do with it.
In just a week and a half, Michael Bisping and Yoshihiro Akiyama will meet in the main event of UFC 120. Though neither will crack the top ten with a win, it does keep them relevant in the UFC's middleweight division.
Jake Sheilds has been removed from the list due to his signing with the UFC and announcement that he will now be fighting as a welterweight. He has been added to the welterweight rankings.
1. Anderson Silva
One thing you can not question about Silva is his level of competition. After besting two top-ten middleweights in Demian Maia and Chael Sonnen, Silva is already scheduled to face Vitor Belfort on Super Bowl Weekend. This is a fight the fans have been clamoring for, but they should consider the fact that both fighters are counter-punchers and there is a strong likelihood of long periods of inactivity as they both wait for the other to throw first. Nonetheless, it is a very intriguing bout and a win will further cement Silva as the best middleweight of all time.
2. Chael Sonnen
After winning four and a half rounds against the champ Anderson Silva, Sonnen seemed to become complacent, falling victim to a triangle choke from Silva and tapping with just a minute remaining. Still, it was as good as anyone has ever looked against Silva and the performance, along with his prior three wins, keep him in the No. 2 spot. Sadly, a month after the bout the commission announced that Sonnen tested positive for steroids and will face a fine and year-long suspension, thus killing his scheduled rematch with Silva. Sonnen will appeal the ruling.
3. Nate Marquardt
Though it didn't look as impressive as he might have hoped, Nate Marquardt stopped Rousimar Palhares by TKO in the first round as the Brazilian stopped fighting to talk to his corner and took a series of punches that ended the fight. It was a bizarre ending but none of it is Marquardt's fault. He will now be rewarded with a title eliminator against the tough Yushin Okami in November.
4. Vitor Belfort
Some will complain about Belfort being ranked so high as a middleweight since by the time of his next fight it will have been just over two years since he fought as a middleweight—his last fight was at a catchweight of ten pounds over the middleweight limit and not by his choice. However, we will use a little discretion because this is where he belongs and he has proven himself repeatedly over the past decade in the sport. He will now get a chance to become only the third man in UFC history to win titles in separate weight classes when he challenges Anderson Silva in February.
5. Yushin Okami
Yushin Okami has put together a ton of solid wins in the UFC, most recently a decision over Mark Munoz, and will now be rewarded with a title eliminator against Nate Marquardt in November. Okami is the last person to put a loss on the record of Anderson Silva, however, it came in the form of disqualification after Silva knocked Okami out with an illegal up-kick. Depending on how the chips fall, there may finally be a rematch between the two.
6. Demian Maia
Though he is 2-2 in his last four, Maia is always improving against quality competition. Most recently he won a unanimous decision over Mario Miranda at UFC 118. Next will be a very attractive matchup with former TUF winner Kendall grove at the TUF finale in December. The winner there will be in line for a big fight.
7. Dan Henderson
Though he appears to be heading back to light heavyweight, Dan Henderson has fought his last five fights at 185, so until he fights at light heavyweight, we will keep him here. Henderson lost a unanimous decision to Jake Shields for the Strikeforce middleweight title, but before that, he had a nice three-fight win-streak going in the UFC. His last fight in the UFC was one of the most brutal knockouts in the sport's history, taking out Michael Bisping in the second round.
8. Jorge Santiago
So far, there is no competition for the fight of the year. Hands down, Jorge Santiago's defense of his Sengoku middleweight title against Kazuo Misaki takes the cake. Both fighters were in big trouble throughout the five-round war, but Santiago ended it by TKO at the end of the fifth round. Hopefully Strikeforce decides to bring Santiago over to the states so more American fans can appreciate this talented middleweight.
9. Ronaldo "Jacare" Souza
Jacare won a close decision over Tim Kennedy for the Strikeforce middleweight title that was left vacant by Jake Shields moving to the UFC. Jacare, who is known for his elite ground game, never took the fight to the ground and showed his much improved boxing for five rounds. No word yet on hi first defense, and frankly there are not too many options. Bringing in Jorge Santiago would be the best choice.
10. Alan Belcher
One of the most disappointing bits of new this year was that all-action UFC middleweight Alan Belcher tore a retina in his eye and was forced to pull out of his upcoming fight with Demian Maia. He has now gone through multiple surgeries to fix the damage, but with an injury like this, his future is always questionable. It couldn't have come at a worst time, as Belcher has been surging of late. Most recently, he submitted former title challenger Patrick Cote in the second round.
No Comments