Shane Carwin Vs. Roy Nelson Likely Heading to UFC 125
Added on Oct 05, 2010 by Bill Jackson in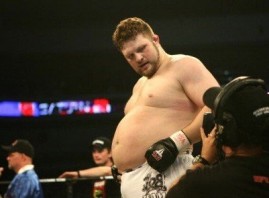 MMAFighting.com recently reported that the UFC is hoping to book a fight between former UFC heavyweight title challenger Shane Carwin and IFL heavyweight champion Roy Nelson. Sources close to the fight confirmed with MMAFighting.com that they hope to stage the fight at UFC 125.
Carwin recently challenged Brock Lesnar for the heavyweight title at UFC 116, a fight in which he nearly stopped Lesnar by knockout in the first round, only to gas out in the second frame and lose by submission. It was the first fight of his career and also the first time he fought past the first round.
Nelson's last outing saw him lost to top heavyweight contender Junior Dos Santos by unanimous decision at UFC 117 in his second fight since winning a season of The Ultimate Fighter. He was the first person to take Dos Santos the distance in the UFC and earned a lot of respect for his chin and will.
The two have been developing some internet beef by shooting Twitter posts back and forth. Nelson referred to Carwin's alleged steroid use, while Carwin made fun of Nelson's physique.
Carwin will surely be the favorite, but if Nelson can take him past the first round, he would likely have a much better chance. The winner will not be far from a shot at the title.
No Comments