Strikeforce: Diaz vs. Cyborg Main Card Betting Lines and Preview
Added on Jan 28, 2011 by Brian Blake in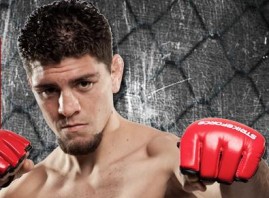 This Saturday night at the HP Pavilion in San Jose, Calif. Strikeforce returns with a championship double-header featuring Welterweight King Nick Diaz as he puts his crown on the line against Evangelista "Cyborg" Santos which will be preceded by Middleweight Champion Ronaldo "Jacare" Souza defends his newly acquired strap against Robbie Lawler. Also featured on the card will be former NFL star Herschel Walker's return to the cage when he takes on Scott Carson. The televised portion of the Showtime event will kick off with a light heavyweight bout between Roger Gracie and Trevor Prangley.
Nick Diaz (-350) vs. Evangelista "Cyborg" Santos (+280)
In Diaz' last outing we saw the ever improving welterweight take on and ultimately defeat KJ Noons in a five round affair with a unanimous decision. Noons, who was coming up from the lightweight division, chose to utilize his speed to try and keep Diaz off balance. It was enough for Noons to make it to the final bell, but not enough to make it a competitive bout. Diaz' current opponent in Santos has a style that is pretty much the opposite of that Noons where the fighter known as "Cyborg" will be looking to come straight at Diaz and make it an all out brawl. Cyborg holds a puncher's chance, but Diaz has proven time and time again that he can take a shot. That, along with his high workrate, gives Diaz the advantage the longer the fight lasts. Look for Diaz to end this one in the championship rounds.
Ronaldo "Jacare" Souza (-245) vs. "Ruthless" Robbie Lawler (+195)
This one here has the potential to be fight of the night. The champ, Jacare Souza, and Robbie Lawler will keep this one standing for a while. This is where Lawler is going to have his best chance at ending this one early. Jacare is primarily a takedown and submission specialist, but don't sleep on the fact that he can let his hands go with the best of them. For that reason it's going to be a fun one until Jacare decides to take it to the ground. Unless the Ruthless one can time the champ coming in with a monster shot I see Mr. Souza ending this one with a submission after plenty of back and forth action on their feet that has the crowd in an uproar.

Herschel Walker (-275) vs. Scott Carson (+205)
This heavyweight tilt is, without a doubt, the toughest fight to gauge as you have Walker on one side who, at the age of 48, has only had one fight in MMA. On the other you have the 40 year old Scott Carson who recently came back to the cage after nearly a decade retirement only to get TKO'd in less than three minutes. It's a circus show, but it's selling tickets. That being said, look for the older Walker to use his size and uncanny conditioning to his advantage as he applies pressure to Carson for a couple rounds before the ref steps in and gives the 1982 Heisman Trophy winner his second win in as many fights while Carson drops to 4-2 while still looking for a win in this decade.
Roger Gracie (-155) vs. Trevor Prangley (+125)
Anytime a mixed martial artist has the last name of Gracie he's got big shoes to fill. In the case of Roger, so far so good. The light heavyweight has gotten his career off to a solid start with three wins all coming by way of submission. Next up on his journey is veteran Trevor Prangley who should be able to test Gracie unlike he has been in his three previous fights. Prangley, who has never quite been able to break through to the join the elites of the light heavyweight is looking to score two wins in a row after registering a split decision win over Keith Jardine back in September of last year. Prangley's greatest asset is his wrestling which could serve as both a gift and a curse in this fight. If he does in fact take this fight to the ground he's going to have to ground and pound Gracie without leaving any opening for Roger to exploit, which I just don't see happening. This fight goes to the ground and sooner than later Gracie finds an opening and registers his fourth submission victory in as many fights.
No Comments