Strikeforce Fedor Vs. Henderson Breakdown
Added on Aug 01, 2011 by John Petit in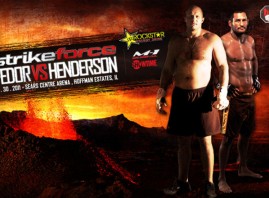 Strikeforce: Fedor Vs Henderson card took place at the Sears Center in Hoffman Estates, Illinois on Saturday night. A huge crowd gathered to watch the most expensive fight in Strikeforce history in the main event, and a women's championship fight in the co main event.
MMA legend Fedor Emelianenko was handed his third straight loss when he was stopped by Dan Henderson to close the night, and it was Miesha Tate who unseated the women's welterweight champion via arm triangle in the fourth round of a close fight.
Below are the results for all fight, and a full breakdown of the main card.
Main card (Showtime)
Heavyweight bout:
Fedor Emelianenko  223 Lbs. Vs. Dan Henderson  207 Lbs.
This was a fight that turned into a brawl almost immediately. Besides about 90 seconds where Hendo held Fedor against the fence, both of these guys were trying to knock each others heads off. Near the end of the fight, Fedor landed a right hand that put Hendo on the seat of his pants. Fedor jumped into his guard and started throwing punches, and Hendo snuck out the back and landed a huge upper cut that sent Fedor face planting into the canvas.
After the fight, Fedor claimed he felt the fight was stopped early. Personally, after it happened I agreed with him, but then I watched the slo-motion replay and I agree with Herb Dean's stop there.
Dan Henderson def. Fedor Emelianenko via TKO (punches) at 4:12 of R1
Women's Welterweight (135 lb) Championship bout:
Marloes Coenen ©  135 Lbs. Vs. Miesha Tate   135 Lbs.
This was a fight everyone thought would be close, and it was up until the Coenen submitted. Tate effectively used her wrestling to control the stand up, because right away it was clear Coenen had the edge there. Coenen was fainting beautifully, and landing her left hook with precision almost immediately in the fight.
On the ground, Tate was able to control Coenen for some of the time, but it was Coenen who was threatening submissions. At one point in the third round, Tate dove in and got the take down, but Coenen was able to frame up a Comado choke that had Tate hovering her hand to tap. However, in the third round it was Tate who cinched up a slick arm triangle choke after she slid from right side mount to left to force the tap. Great back and forth fight, and an excellent win for the new champ.
Miesha Tate def. Marloes Coenen via arm triangle at 3:03 Rd. 4
New women's bantamweight champ.
Middleweight bout:
Robbie Lawler 185 Lbs. Vs. Tim Kennedy  185 Lbs.
The times that Lawler landed punches in the fight, he was extremely effective. He managed to bloody up the face of Kennedy, but for most of the fight it seemed he had a hard time pulling the trigger. Kennedy was able to pressure Lawler and frustrate him on the floor, and anytime Lawler would come forward Kennedy would duck under and dive for a take down.
I'm wondering if Lawler hurt his hand in the fight, because he wasn't throwing combinations. The whole fight he looked for the homerun punch, but never followed it up with anything. Kennedy fought his style of fight, and controlled Lawler on the fence and on the mat. Lawler was finding the mark with his uppercut, but after Kennedy got stung with it a few times he was looking out for it.
Tim Kennedy Def. Robbie Lawler by Unanimous Decision (30-27, 30-27, 30-27)
Sportsbettingworld.com Score
Rd. 1 10-9 Kennedy
Rd. 2 10-9 Kennedy
Rd. 3 10-9 Kennedy
(Kennedy 30-27)
Welterweight bout:
Paul Daley 171 Lbs. Vs. Tyron Woodley  170 Lbs.
If you saw Paul Daley vs Josh Koschek you basically saw th same fight. The only real difference in this one, was that Daley managed to defend a large amount of the takedowns and was able to get to his feet a few times. That didn't change the outcome any, as every time Daley was on his back he had a lot of trouble getting up.
The first round I scored a draw, I really didn't think either fighter did anything to win the round. Daley was taken down, but he got back and took no damage and Woodley never had a dominant position. If I had to pick a winner of the round it would have been Woodley.  I understand the argument that Daley won the third round, but I just didn't think Daley did enough to steal it. Yes he landed some shots, but he didn't create any damage and it was Woodley who had cage control.
Tyron Woodley defeats Paul Daley by Unanimous Decision (29-28, 29-28, 29-28)
Sportsbettingworld.com Score
Rd. 1 10-10 Draw
Rd. 2 10-9   Woodley
Rd. 3 10-9   Woodley
(30-28 Woodley)
Welterweight bout:
Scott Smith 171 Lbs. Vs. Tarec Saffiedine  170 Lbs.
Smith was picked apart in this fight from the very beginning. Saffiedine was able to jump in and out of the pocket, and land on smith at will. Smith was able to land some shots, but he threw very few combinations and was throwing single shots and kicks. When it was clear at the end of the fight that he did not have the decision in his favor, he was way to docile and it didn't seem like he was trying to finish Saffiedine. He kept throwing the right leg high kick that never came close to landing, and it reeked of desperation everytime. Smith just wasn't aggressive int his fight, and he stood in front of Saffiedine for 15 minutes getting beat up.
Tarec Saffiedine def. Scott Smith by unanimous decision (30-26, 30-27, 30-27)
Sportsbettingworld.com Score
Rd. 1 10-9 Saffiedine
Rd. 2 10-8 Saffiedine
Rd. 3 10-9 Saffiedine
(30-26 Saffiedine)
Preliminary card
Lightweight bout:
Gesias Cavalcante  155 Lbs. Vs. Bobby Green 155 Lbs.
Gesias Cavalcante def. Bobby Green via split decision (29-28, 28-29, 29-28)
Welterweight bout:
Eduardo Pamplona 170 Lbs. Vs. Tyler Stinson 171 Lbs.
Tyler Stinson def. Eduardo Pamplona by KO at :15 seconds, R1
Women's Welterweight (135 lb) bout:
Alexis Davis 136 Lbs. Vs. Julie Kedzie 135 Lbs.
Alexis Davis def. Julie Kedzie by unanimous decision (29-28, 30-27, 30-27)
Middleweight bout:
Derek Brunson 186 Lbs. Vs. Lumumba Sayers 184 Lbs.
Derek Brunson def. Lumumba Sayers by submission (rear naked choke) at 4:33, R1
Heavyweight bout:
Bryan Humes 266 Lbs. Vs Gabriel Salinas-Jones  260 Lbs.
Gabriel Salinas-Jones def. Bryan Humes by submission (D'Arce choke) at 1:19, R3
No Comments