Strikeforce: Fedor Vs. Henderson Results
Added on Jul 31, 2011 by John Petit in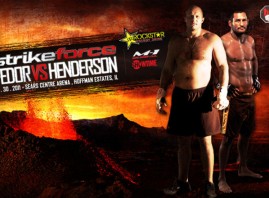 Strikeforce: Fedor Vs Henderson card took place at the Sears Center in Hoffman Estates, Illinois on Saturday night. A huge crowd gathered to watch the most expensive fight in Strikeforce history in the main event, and a women's championship fight in the co main event.
MMA legend Fedor Emelianenko was handed his third straight loss when he was stopped by Dan Henderson to close the night, and it was Miesha Tate who unseated the women's welterweight champion via arm triangle in the fourth round of a close fight.
Below are the results for all fight, as always I will do a full breakdown of the main card tomorrow.
Main card (Showtime)
Heavyweight bout:
Fedor Emelianenko  223 Lbs. Vs. Dan Henderson  207 Lbs.
Dan Henderson def. Fedor Emelianenko via TKO (punches) at 4:12 of R1
Women's Welterweight (135 lb) Championship bout:
Marloes Coenen ©  135 Lbs. Vs. Miesha Tate   135 Lbs.
Miesha Tate def. Marloes Coenen via arm triangle at 3:03 Rd. 4
New women's bantamweight champ.
Middleweight bout:
Robbie Lawler 185 Lbs. Vs. Tim Kennedy  185 Lbs.
Tim Kennedy Def. Robbie Lawler by Unanimous Decision (30-27, 30-27, 30-27)
Sportsbettingworld.com Score
Rd. 1 10-9 Kennedy
Rd. 2 10-9 Kennedy
Rd. 3 10-9 Kennedy
(Kennedy 30-27)
Welterweight bout:
Paul Daley 171 Lbs. Vs. Tyron Woodley  170 Lbs.
Tyron Woodley defeats Paul Daley by Unanimous Decision (29-28, 29-28, 29-28)
Sportsbettingworld.com Score
Rd. 1 10-10 Draw
Rd. 2 10-9   Woodley
Rd. 3 10-9   Woodley
(30-28 Woodley)
Welterweight bout:
Scott Smith 171 Lbs. Vs. Tarec Saffiedine  170 Lbs.
Tarec Saffiedine def. Scott Smith by unanimous decision (30-26, 30-27, 30-27)
Sportsbettingworld.com Score
Rd. 1 10-9 Saffiedine
Rd. 2 10-8 Saffiedine
Rd. 3 10-9 Saffiedine
(30-26 Saffiedine)
Preliminary card
Lightweight bout:
Gesias Cavalcante  155 Lbs. Vs. Bobby Green 155 Lbs.
Gesias Cavalcante def. Bobby Green via split decision (29-28, 28-29, 29-28)
Welterweight bout:
Eduardo Pamplona 170 Lbs. Vs. Tyler Stinson 171 Lbs.
Tyler Stinson def. Eduardo Pamplona by KO at :15 seconds, R1
Women's Welterweight (135 lb) bout:
Alexis Davis 136 Lbs. Vs. Julie Kedzie 135 Lbs.
Alexis Davis def. Julie Kedzie by unanimous decision (29-28, 30-27, 30-27)
Middleweight bout:
Derek Brunson 186 Lbs. Vs. Lumumba Sayers 184 Lbs.
Derek Brunson def. Lumumba Sayers by submission (rear naked choke) at 4:33, R1
Heavyweight bout:
Bryan Humes 266 Lbs. Vs Gabriel Salinas-Jones  260 Lbs.
Gabriel Salinas-Jones def. Bryan Humes by submission (D'Arce choke) at 1:19, R3
No Comments