UFC 119: Reactions and Responses
Added on Sep 27, 2010 by Bill Jackson in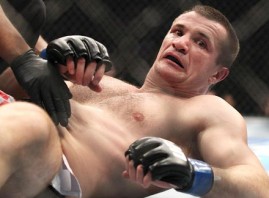 While there are some fans who don't know how to deal with a bad UFC show other than call it the end of MMA as we know it—spoiled bastards—the reality is that the UFC has been on a roll lately and they had no choice but to put two has-beens in a main event. I agree that UFC 119 was sub-par, but not every event is going to seem legendary and main events like these just make you respect the good ones that much more.
It's a shame that a main event can overshadow the rest of the card so much because UFC 119 had some entertaining moments before Frank Mir and Mirko Cro Cop stunk up the joint. Really, I don't know what fans are looking for if they didn't like at least one of the fights last night. That being said, there was something to complain about in most of the bouts.
First off, many were expecting Melvin Guillard and Jeremy Stephens to come out guns blazing until one of them was unconscious on the floor. But when two fighters have as much power as the two of them, at least one of them is going to prefer to pick his spots. Nobody wants to go out cold and it is basically a coin flip for Guillard that he will be the victim if he was to throw with reckless abandon.
While I thought he looked good boxing his way around Stephens for three rounds, I still gave it to Stephens. The UFC constantly reminds you that the judging favors aggression and Stephens was constantly pushing the action. I gave him the first round and the third, but of course there was a judge that gave every single round to Guillard—insanity—and another that gave him two, making Guillard the winner by split-decision. Though it wasn't "fight of the night" material, it was a decent scrap and I was entertained.
The second bout of the night is what I feel should be taking the bulk of the criticism, but by no fault of the fighters. Former UFC lightweight champ Sean Sherk made his return after a 16-month layoff against budding undefeated contender Evan Dunham. Sherk clearly handled the first round with his wrestling and nasty ground-and-pound, opening up a huge gash on the forehead of Dunham. It looked like it was only going to get worst for Dunham, but the young fighter earned the respect of many by fighting back and taking control of the fight. Dunham clearly won the second round and by the end of the third he was rocking Sherk with every strike in his arsenal. Sherk barely made it out of the round and it appeared to be another breakout fight for Dunham. Sadly, the disease that is plaguing this sport struck again and the judges gave it to Sherk. It was arguably the worst decision of the year.
While the fans should be voicing their disapproval with the outcome of this bout, you can't take away from the fact that it was a hell of a fight. It was wildly entertaining for all three rounds, it's just a shame that a few people that don't get the game are being paid to stare at it while thousands of observers who know more have to fork out money to watch.
Personally, the third fight was one of the more disappointing bouts of the night. Former champ Matt Serra met fight of the night powerhouse Chris Lytle in a rematch of their uneventful first fight in the finale of The Ultimate Fighter 4. The two came out slugging, throwing caution to the wind for three rounds and the man with more practice at that, Lytle, took every round on the judges cards—I gave Serra the first round.
I'm sure there were plenty of fans loving the back and forth action and I certainly appreciated the will and courage of both men, but these two are too good for this. It is one thing when Stephan Bonnar comes out and lets punches bounce off his chin while trying to land his own heavy hands in the process because that is what he does; he's a psycho. But Serra and Lytle have a million tools in their toolkit and for them—especially Serra—to limit themselves to throwing the same punch repeatedly in an effort to put on the "fight of the night" is simple pandering to the lowest common denominator. The majority of MMA fans love the sport because they want to see athletes out-skill, as well as out-will, their opponent, not play a repetitive game of bloody knuckles with each others face. I wanted to see this fight go everywhere and the fighters decided it would be one dimensional before it even started.
Though I am undoubtedly in the minority, I felt the co-main event was the most intriguing match of the night. Pride vet Antonio Rogerio Nogueira met undefeated Ryan Bader in the most meaningful fight on the card. And though it wasn't constant fireworks, it was two guys trying their hardest to find a way to win. It was youth vs. experience; athleticism vs. technique. As close as every round was, I had little problem with the judges giving Bader the shutout win. I just wish a match with that talented of fighters was longer than three rounds. Nogueira would have certainly had a better chance with more time. Still, there were no losers in this one.
And then came the giant handful of dookie thrown in our face that was the main event.
Frank Mir will never be championship material again and the more he plays with his style and body, the further away he will get. His shocking knockout of Antonio Rodrigo Nogueira at UFC 92 will likely go down as the highlight of his career and I don't see him ever surpassing it.
Mirko Cro Cop hasn't been the guy we came to know in Pride Fighting Championships for some time now, but last night was an all-time low. Granted he took the fight on relatively short notice and was rumored to be fighting off injuries leading into the bout, but this was on par with Roy Jones Jr.'s performance against Bernard Hopkins earlier this year. Simply, he doesn't have it anymore. Further, he doesn't have the smallest shred of it anymore.
The entire bout consisted of Mirko unable to throw a single meaningful strike while Mir continually hugged his man, trying to give him charlie-horses that wouldn't bother my 8-year-old cousin. Joe Rogan called it correctly, stating that the fight seemed more like a sparring session than anything. For 14 minutes, Mir and Mirko had all paying customers turning one eye to their wallets and pondering all the other forms of entertainment their money could have bought. Then Mir landed a lucky knee to the chin of Cro Cop, knocking him unconscious… and still nobody really cared. The joy felt by spectators was them realizing they didn't have to watch another minute of this fight.
Mirko, please retire. You should have left after you finally got two wins in a row in the UFC, but now you are stuck in a tough spot. If you leave now, to some you will be remembered for this god awful performance. If you fight on, it will piss off the ones who still remember you for your greatness. And the word is that by you taking this fight, it guaranteed you one more in the UFC. I really hope you reconsider that option. It's over.
Mir, by playing with your weight, body-type, and skill-set, you have lost yourself in a labyrinth of indecision. A fighter that is losing who he is negates any philosophical reason to do what he does.  Brock Lesnar is finding success because he wants to know what he is made of and is willing to take chances to find out. You're career in the UFC is coming to an end if you don't find an identity in a sport that is accepting of them all. My advice: stay away from the top guys and make your rounds getting a paycheck for fighting guys from your own era. Just don't do it in the main event of UFC pay-per-views.
No Comments