UFC 127: Official Weigh-In Results
Added on Feb 26, 2011 by John Petit in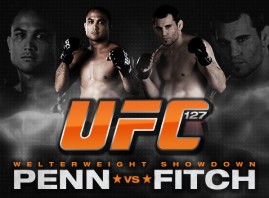 All 24 fighters from UFC 127 took the scales yesterday in Australia for the weigh-ins for the event tonight on pay-per-view. All the fighters made weight with the exception of Denis Siver who had to re-weigh-in later, and on his second attempt he made the weight.
BJ Penn and John Fitch had a pretty mild stare down after making weight, and both were excited to fight. Jon Fitch told UFC announcer Joe Rogan "I'm pumped to be fighting B.J. Penn. He's a legend, and I respect him, but I've got to beat him. He has what I want." As usual, BJ didn't have much to say to Rogan, he just said "I'll do my talking in the ring tomorrow."
In the 'not shocking at all' category, Michael Bisping and Jorge Rivera continued their trash talking after getting off the scale. You can see the altercation on UFC Dana White's video blog for the event, but it was just some pushing and shoving while Bisping hurled homophobic slurs at Rivera. White was forced to step in between the two.
MAIN CARD (pay-per-view)
Main Event Welterweight:
Jon Fitch (77.2 kg/169.8 lbs.)
B.J. Penn (76 kg/167.2 lbs.)
Co-Main Event Middleweight
Michael Bisping (84.2 kg/185.2 lbs.)
Jorge Rivera (84 kg/184.8 lbs.)
Lightweight Bout
Dennis Siver (70.9 kg/156 lbs.)
George Sotiropoulos (70.8 kg/155.8 lbs.)
Welterweight Bout
Chris Lytle (77.2 kg/169.8 lbs.)
Brian Ebersole (77.2 kg/169.8 lbs.)
Middleweight Bout
Chris Camozzi (84.2 kg/185.2 lbs.)
Kyle Noke (83.6 kg/183.9 lbs.)
PRELIMINARY CARD (ION Television)
Lightweight Bout
Spencer Fisher (70.2 kg/154.4 lbs.)
Ross Pearson (70.6 kg/155.3 lbs.)
Light-heavyweight Bout
Alexander Gustafsson (93.2 kg/205 lbs.)
James Te Huna (93 kg/204.6 lbs.)
Middleweight Bout
Riki Fukuda (84 kg/184.8 lbs.)
Nick Ring (84 kg/184.8 lbs.)
PRELIMINARY CARD (Facebook)
Light-heavyweight Bout
Tom Blackledge (93.2 kg/205.2 lbs.)
Anthony Perosh (93 kg/204.6 lbs.)
Featherweight Bout
Jason Reinhardt (66 kg/145.2 lbs.)
Tiequan Zhang (66.2 kg/145.6 lbs.)
PRELIMINARY CARD (Non-televised)
Heavyweight Bout
Mark Hunt (119.2 kg/262.2 lbs.)
Chris Tuchscherer (118.6 kg/260.9 lbs.)
Lightweight Bout
Maciej Jewtuszko (70.2 kg/154.4 lbs.)
Curt Warburton (70.8 kg/155.8 lbs.)
1 Comment