UFC Confirms Remaining Bouts for UFC 128: Rua vs. Jones in New Jersey
Added on Mar 09, 2011 by Brian Blake in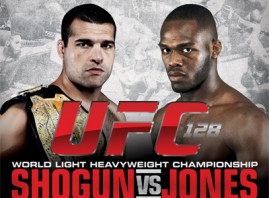 The UFC was in a bit of a spot after it was announced that former light heavyweight title holder Rashad Evans was forced out of his title shot against current champion Mauricio "Shogun" Rua. Following the injury to Evans, the UFC opted to keep the main event intact and have Rua defend his title against the sports hottest prospect of recent memory in Jon "Bones" Jones.
With the main event once again good to go, Dana White, Joe Silva and the rest of the team were able to finalize the rest of the matches for the March 19 event hosted by the Prudential Center in Newark, New Jersey.
Here's how the line up has shaped up:
Main Card (Televised on Pay-Per-View 10 PM ET/ 7 PM PT):
UFC Light Heavyweight Championship: Mauricio "Shogun" Rua vs. Jon "Bones" Jones
Bantamweights: "The California Kid" Urijah Faber vs. Eddie Wineland
Lightweights: Jim Miller vs. Kamal "Prince of Persia" Shalrous
Middleweights: Yoshihiro "Sexyama" Akiyama vs. Nate "The Great" Marquardt
Heavyweights: Mirko "Cro-Cop" Filipovic vs. Brendan "The Hybrid" Schaub
Preliminary Bouts (Televised on Spike TV 9 PM ET/ 6 PM PT):
Light Heavyweights: Luis "Banha" Cane vs. Eliot "The Fire" Marshall
Lightweights: Edson Barboza vs. Anthony Njokuani
Preliminary Bouts (Streamed on Facebook 8 PM ET/ 5 PM PT):
Welterweights: Ricardo "Cachorrao" Almeida vs. Mike "Quicksand" Pyle
Lightweights: Kurt "Batman" Pellegrino vs. Gleison Tibau
Non-Telesived Undercard:
Bantamweights: Joseph Benevidez vs. Ian "The Barn Owl" Loveland
Featherweights: Raphael Assunção vs. Erik "New Breed" Koch
Middleweights: Dan Miller vs. Nick "The Jersey Devil" Catone
More news on UFC 128: Rua vs. Jones to follow.
No Comments