UFC Vets Travel Overseas To Battle Guys You've Never Heard Of
Added on Sep 28, 2010 by Bill Jackson in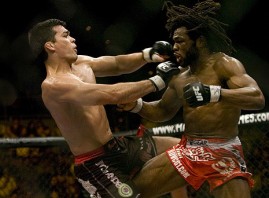 MMA veterans such as Frank Trigg, Ricco Rodriguez, Hermes Franca, Jeff Monson, and Thierry Sokoudjou are all scheduled to fight on Nov. 9 for Israel Fighting Championships in Israel.
Former UFC heavyweight champ Ricco Rodriguez recently pulled out of Bellator 31 with a knee injury, so his status is still pending.
While most of the fighters are coming off of losses, this collection of notable names should bring quite a bit of attention to the event. It should also be a good opportunity for some of them to get back in the win column.
No word yet on if this event will be available in America.
The full lineup:
Jeff Monson vs. Sergey Shemetov
Frank Trigg vs. Roy Neeman
Ricco Rodriguez vs. Daniel Tabera
Hermes Franca vs. Moshe Kaitz
Rameau Thierry Sokoudjou vs. Valdas Pocevicius
Charles "Krazy Horse" Bennett vs. Ariel Abergel
Daniel Gracie vs. Martin Wojcik
Shonie Carter vs. Jeremy Knafo
Thiago Meller vs. Fabrice Riconneau
Vitaly Shemetov vs. Alexandro Ceconi
Joshua Hewlett vs. Ido Pariente
Akop Stepanyan vs. Marc Berger
Serob Minasyan vs. Vitali Krbrsky
No Comments