World Extreme Cagefighting Continues String Of Successful Events With WEC 51
Added on Oct 01, 2010 by Bill Jackson in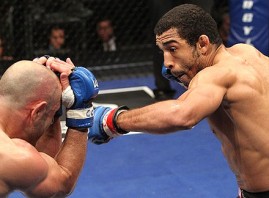 Once again, the WEC lived up to it's high standard of consistently entertaining events with WEC 51 last night. The entire card looked promising on paper and the action didn't disappoint. Featherweight champion Jose Aldo further solidified his place at the top with a second-round knockout of Manny Gamburyan, Donald Cerrone and Jamie Varner added another chapter to their heated rivalry, and former champion Miguel Torres got back on the winning track.
The 10k bonuses went to George Roop for his devastating left head-kick knockout of The Korean Zombie, Miguel Torres for his submission of Charlie Valencia, and Cerrone and Varner for their three-round fight of the night.
One side note: The judge that scored Leonard Garcia winning over Mark Hominick is yet another outrageous scoring job that is plaguing this sport. Once you screw up a fight that poorly, it should mean immediate removal. There are plenty of competent people that understand this sport and would love to have the job. Why we are forced to deal with these half-wits is something I will never understand.
Full results are below.
Jose Aldo def. manny Gamburyan via second-round KO
Donald Cerrone def. Jamie Varner via unanimous decision
Miguel Torres def. Charlie Velancia via submission
George Roop def. Chan Sung Jung via second-round KO
Mark Hominick def. leonard Garcia via split-decision
Tiequan Zhang def. Pablo Garza via submission
Mike Brown def. Cole Province via first-round tko
Chris Horodecki def. Ed Ratcliff via split decision
Diego Nunes def. Tyler Toner via unanimous decision
Antonio Banuelos def. Chad George via unanimous decision
Demetrius Johnson def. Nick Pace via unanimous decision
No Comments