Brazil 2014 Qualification Formats
Added on Jan 03, 2011 by Trent Sillanpaa in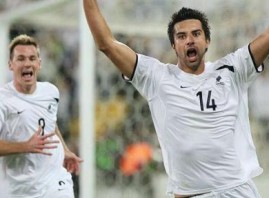 With the calendar turned to 2011 continental qualifying for the 2014 FIFA World Cup will begin in earnest this year. Keeping in mind that the qualifying process begins slowly and won't pick up steam until late 2012 when Europe joins in on the fun, let us look at how each continent has set up its qualifying process for this go round.
Asian Football Confederation (AFC)
Initially slated to begin last October, the AFC qualifying will start with two-leg knockout qualification matches on June 29 and July 3 of this year. Once those home-and-away series are through the AFC field will be narrowed to 20 nations which will be split into five groups of four teams. This first group stage will take place from September 2011 through February 2012 with the final group stage commencing in mid-2012. The top two sides from each group in the first stage will advance to one of two five-nation groups in the final stage.
Confederation of African Football (CAF)
How qualifying will begin is anyone's guess, but it is generally a long process akin to that of AFC or CONCACAF. Last time out it featured a preliminary round to narrow the field to a more manageable 48 nations which were then divided into groups of four. Of these teams 20 advanced to the final group stage. Look for qualifying to begin later this year with a two-leg knockout stage.
Confederation of North, Central American, and Caribbean Association Football (CONCACAF)
Why any continental governing body would require its nations to play so many qualifying matches despite relative few competitive teams is beyond the comprehension of just about everyone who doesn't make the rules at CONCACAF. Already featuring a long qualifying schedule, CONCACAF has proposed to change the process to include a preliminary round and three group stages. Long story short, a nation could play as many as 20 matches if it makes the final group stage with many coming against the same opponents. Must the United States really play Trinidad & Tobago four-plus times to prove itself in the eyes of CONCACAF or FIFA? If the proposal is agreed upon then the prelim round will begin this summer, whittling the field to 32. This will be followed by group stages featuring eight, four, and then two groups of four.
South American Football Confederation (CONMEBOL)
South America has the advantage of housing just 10 nations, but you have to think some other governing bodies would find a way to make qualifying more of a pain. Thankfully the powers that be have kept this qualification process as straightforward as possible. In fact this time around it will be a much easier deal for everyone involved because Brazil gets the automatic spot as World Cup host. Nine countries will play a double round robin facing everyone else at home and away for a total of 16 matches apiece.
Oceania Football Confederation (OFC)
The OFC gets the award for streamlining its qualifying so well. The 2011 Pacific Games will also serve as the first qualifying round and the 2012 OFC Nations Cup is likely to serve as the second round. How's that for being frugal?! On top of that the OFC champion may avoid the playoff it always faces just to get to the World Cup against a nation from another continent if the proposal for the OFC winner to join the final group stage of the AFC goes through. It makes sense now that Australia is in the AFC and New Zealand is in full support.
Union of European Football Associations (UEFA)
We don't know how the groups will be split up this time around, but one would assume there will be 8-10 groups. Each group will play its own double round robin schedule and all the group winners advance to the World Cup. Depending on the number of groups there could be one or two more automatic qualifiers taken from the best second place nations. There will also be a number of two-leg playoffs between the second place teams whether or not any runner-up nations advance without facing a playoff challenge. None of this will begin until the summer of 2012 following Euro 2012.
1 Comment