Too Early to Talk 2014 Long Shots?
Added on Dec 14, 2010 by Trent Sillanpaa in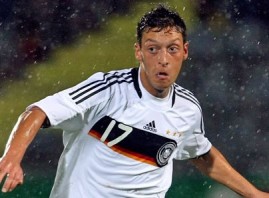 With the 2018 and 2022 World Cup selection hubbub dying down outside of the countries deemed the big winners or losers from the Dec. 2 FIFA announcement it can't be too early to look at the potential moneymakers for 2014. Brazil is the overwhelming favorite to win the Cup on home soil in three and a half years time, followed one sizeable step behind by Spain and Argentina (could you imagine?!). After that it is difficult to figure which country may be worth laying a bet on to win the tournament in advance of qualifying on the outside chance they can stun the world in Brazil while giving bettors more bang for their buck, but let's do it anyway.
Long Shots Worth Taking
Germany (10/1)
We're talking odds to win the whole thing here, and Germany comes in right after the big three and is therefore considered a long shot. Expectations really weren't very high the last three tournaments for Germany, yet it managed to make one final and finish third twice. In 2014 the Germans will enter with a sufficient amount of talent around clear-cut go to player Mesut Ozil who was great in 2010. The Germans always go far at the World Cup and will be well served by their machine-like approach to big matches which would make other countries quake in their boots.
Italy (16/1)
Despite the potential for it being a real transitional period for Italy as its leadership on the pitch shifts from the core which won in 2006 following an early 2010 exit the idea of putting something on a side known for a defensive approach isn't the worst idea in Brazil. Count me as one who won't buy into the idea that just because the tournament is in Brazil it will produce a wealth of open play and attacking flair from all participants. Either way, if we're talking safe bets to stand a chance at going relatively deep in Brazil while being far from a sure thing then why not go with a side sure to stay in every match it plays?
Portugal (25/1)
This will be the final chance for Cristiano Ronaldo to leave his mark on the World Cup during his prime. It won't likely be his final World Cup, but he'll be 29 and you can't expect the same things from a 33-year-old forward in 2018. Portugal may feel a little more at home in Brazil considering the lack of a language barrier and some cultural similarities between itself and its former colony, but that's a stretch since we're talking winning the World Cup. Three matches into the Paolo Bento era and Portugal looks to have found the right fit after winning all three by a combined 10-1 score, including a resounding 4-0 result versus Spain. It will have the talent and the intangible advantage of playing in Brazil.
Long Shots Worth Ignoring
Holland (12/1)
Again, not that much of a long shot, but we're considering all but Brazil, Argentina and Spain as long shots right now. On one hand you can look at The Netherlands as a side starting a new era of success after finishing runner-up in 2010, or you may see it as a talented side whose best chance in the post-70s era just came and went. There will be talent on hand be it known or new to the world, but you never know if the core group of Robben, Sneijder, Van der Vaart, and van Persie will be at the perfect age (right around 30) to go deep or succumbing to injury as some have shown a penchant for already.
England (16/1)
It's really all guesswork setting the odds for a tournament prior to the start of qualifying, so the countries we know will be there will certainly have inflated chances. We know England is constantly overrated as a national team and have struggled mightily to make an impression at tournaments in much more forgiving places. It could be an exciting team, though, with a number of young talents coming up recently, like Gareth Bale and Andy Carroll.
Any South American country other than Brazil and Argentina
Right now the 2010 participants have the best odds, though none better than the 40/1 given to Chile and Uruguay. The fact is that while each South American team will have plenty of fans and won't have to travel too far (think Germany 2006), none is near the level of the host or its rival. It is one thing to be a thorn in the side of favored teams and something else to actually shown the completeness to win the World Cup. Chile is too small and attack-minded, Uruguay just got the best Forlan and Suarez have to give in 2010, and no one else seems to be able to even match their talent levels.
No Comments