HBO Boxing After Dark: Canelo Alvarez vs. Ryan Rhodes Weigh In Results
Added on Jun 17, 2011 by Brian Blake in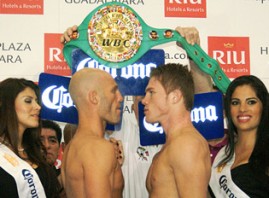 The talking is over, the hard training is done and now it's time to fight. This Saturday, June 18, at Arena Vicente Fernandez in Guadalajara, Jalisco, Mexico, WBC Super Welterweight World Champion Canelo Alvarez will make his first title defense and put his amazing 36-0-1 record on the line against veteran contender Ryan Rhodes, who is determined to make sure that his first world title shot in nearly 12 years won't go to waste. Alvarez returned to his hometown on Friday night to finish training after a six week camp in Big Bear, Calif., while Rhodes has been in Guadalajara for over a week to make sure he is 100% ready for Saturday's fight.
The explosive co-featured bout pits two of the top young super featherweights in the world against each other as unbeaten Adrien "The Problem" Broner battles Jason Litzau for the USNBC title in a ten round fight. Highly touted prospect Adrien Broner, who puts his undefeated record (20-0, 16 KO's) on the line, faces a tough test in Litzau (28-2, 21 KO's) who has only two loses with one coming at the hands of WBA & WBO Interim Lightweight World Champion Robert "The Ghost" Guerrero.
Also in action will be Golden Boy's Mexico City standout Marco Antonio Periban (13-0, 10 KO's), a super middleweight prospect who will look to make an impression on his home-country fans. He steps back through the ropes in search of his fourth win of 2011 when he faces Los Mochis Sinaloa's Alfredo Lugo (11-10-1, 5 KO's) in an eight round non-televised fight.
Official Weights are as follows:
WBC Super Welterweight Championship – 12 Rounds:
Saul Alvarez (153.25 lbs.) vs. Ryan Rhodes (152.5 lbs.)
USNBC Super Featherweight Title – 10 Rounds:
Adrien Broner (128.5 lbs.) vs. Jason Litzau (129.75 lbs.)
WBC Youth Super Bantamweight Title – 10 Rounds:
Horacio Garcia (121.25 lbs.) vs. Arturo Camargo (122 lbs.)
Super Bantamweight – 8 Rounds:
Jesus Jimenez (119.25 lbs.) vs. Patricio Camacho 115 lbs.)
Light Heavyweight – 8 Rounds:
Marco Antonio Periban (170.25 lbs.) vs. Alfredo Contreras (169.75 lbs.)
WBC Youth Interim Super Featherweight Title – 8 Rounds:
Jose Manuel Osorio (129.75 lbs.) vs. Alex Monteroza (129.75 lbs.)
Super Featherweight – 6 Rounds:
Gary Buckland (130.75 lbs.) vs. Jose Gonzalez (127.75 lbs.)
Super Bantamweight – 4/6 Rounds:
Dennis Contreras (122.5 lbs.) vs. Efren Bautista (120.25 lbs.)
Welterweight – 4/6 Rounds:
Carlos Perez (141 lbs.) vs. Cesar Figueroa (142.25 lbs.)
WBC Youth Featherweight Title – 10 Rounds:
Sergio Villanueva (126.25 lbs.) vs. Onalvi Sierra (125.5 lbs.)
Junior Welterweight – 8 Rounds:
Oscar Cortez (138 lbs.) vs. Isaac Bejarano (132.75 lbs.)
No Comments