Legendary Boxing Writer Bert Sugar Dead At 74
Added on Mar 25, 2012 by Jack Thurman in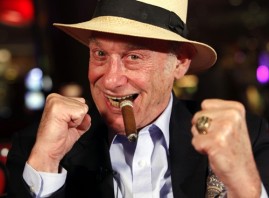 Legendary boxing writer Bert Sugar–known for his vast knowledge of 'the sweet science', his quick wit and iconic cigar/fedora combo–died Sunday afternoon at the age of 74 following a long battle with lung cancer.
Sugar is best known for his involvement with boxing but he was accomplished in several fields–the excellent boxing writer Michael Woods called him a 'raconteur' in his tribute. After completing his undergraduate work at the University of Maryland he went on to earn a JD (law) degree and a MBA at the University of Michigan. He passed the New York State Bar Exam but instead of pursuing a legal career went into the advertising business during the time it was a booming and glamorous profession. He worked at several of the top agencies at the time including powehouses McCann Erickson and J. Walter Thompson. That's the mileau in which the current hit TV series 'Mad Men' is set–ironically Sugar passed away the same day as their season premier.
After his time in the advertising game, Sugar bought Boxing Illustrated magazine and served as its editor until 1973. In 1979, he became editor and publisher of The Ring for several years until returning to Boxing Illustrated in 1988. He was a prolific author, writing over 80 books–most on the subject of boxing. He was a frequent sight on television, most notably on ESPN Classic's encyclopedic retrospective series and HBO Sports' boxing coverage. And not surprising for a well rounded man, Sugar wrote on subjects ranging from cigars to baseball to pro wrestling. In fact, he was the co-author of 'The Complete Idiot's Guide To Pro Wrestling' with the esteemed man of letters Captain Lou Albano.
Sugar was not only a first rate boxing historian and world class expert on the sport, he was great at sharing that knowledge. Not only did he know his stuff, he was an extremely entertaining storyteller–his historical discourse would frequently be punctuated with puns and witty asides.
Fortunately, there is a wealth of archival video footage featuring Sugar including a sizable collection on YouTube. Below this article is the first of a six part interview with Sugar that I found especially entertaining:
No Comments