Puerto Rican Prospects Do New York City Proud in ShoBox Event
Added on Jun 13, 2011 by Brian Blake in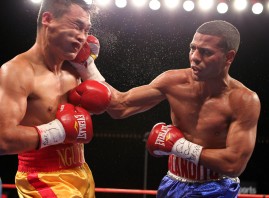 On the eve of the Puerto Rican Day Parade Showtime headed from the West Coast out to the Roseland Ballroom in New York City for a second consecutive night in which they aired a ShoBox: The New Generation event. Saturday night's event utilized the following day's parade to showcase a talented pair of Puerto Rican prospects in seperate 10-round bouts.
In the main event Orlando "Orlandito" Del Valle (13-0,10 KOs) kept his winning streak intact as he cruised to a near shutout over Vero Beach, Florida's Dat "Be Dat'' Nguyen. Del Valle, of Bayamon, Puerto Rico, was able to counter his way into handing the all-action Nguyen just the second loss of his career. Nguyen came out swinging from the moment the opening bell rang but was on the receiving end of countless precise counter shots that picked Nguyen apart for the majority of the night.
As the rounds progressed Nguyen proved his chin to be more than sturdy but the wear and tear of eating shots all night was apparent as Del Valle was able to make the head of Nguyen swell up while Del Valle sported a minor cut under his right eye. It was all Del Valle from the sixth round on and without a doubt one of the best performances of the 24 year old's career. In the end all three judges agreed that Del Valle would get the nod with matching scores of 99-91.
"[Nguyen] is very strong and determined," said Del Valle after the fight. "He has a good chin and more power than his record shows."
Along with impressing the crowd, Del Valle was able to impress ringside analyst Steve Farhood just as much. "For my money, Del Valle stole the show," said Farhood. "Just an outstanding performance."
As for what's next for the 126-pound Del Valle: "He's going to go down to 122, whether he wants to or not," said co-promoter Lou DiBella. "He's already got power now. At 122, forget it."
The evening's televised opener began even before the opening bell as both Jonathan Gonzalez and Richard Guiterrez hurled insults with eachother from across the ring.
By the third round the was still more than a bit of animosity apparent as referee Gary Rosato had to warn both combatants for a myriad of fouls ranging from low blows to rabbit punches.
In the sixth round, Gonzalez began to pick the action back up and unload heavy shots to the head and body of Guttierez but ended his barrage with a low blow that gave Gutierrez some much needed time to recover. Gonzalez stayed active through his first career distance fight winning a satisfying unanimous decision.
Official scores for the ten round super middleweight clash were 99-91 and 98-92 twice.
No Comments