AL sluggers could set series home run record
Added on Oct 20, 2010 by Ted Sillanpaa in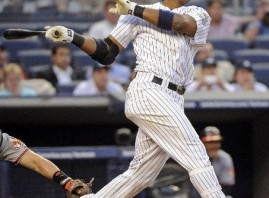 New York's Robinson Cano and Texas slugger Josh Hamilton are in position to tie and break the record for the most home runs in a Major League Baseball playoff series.
Cano and Hamilton each have four home runs in the American League Division series that will resume with Game 6 on Friday in Texas. The Rangers lead the series 3-2.
Former Rangers' slugger Juan Gonzalez hit five home runs in the 1996 playoffs against the Yankees to tie the record set by Ken Griffey, Jr. when he banged five homers off the Yankees in 1995.
San Francisco Giants outfielder Cody Ross has three home runs entering Game 4 of the NLCS against Philadelphia. If he hits one more home run in the series, he'll tie for the NL record. Four home runs in one playoff series have been hit six times in the NL.
Most Homers in Playoff Series
American League
5 — Juan Gonzalez, Texas vs. New York, 1996 (4 games)
5 — Ken Griffey Jr., Seattle vs. New York, 1995 (5 games)
4 — Jim Thome, Cleveland vs. Boston, 1999 (5 games)
4 — Robinson Cano, New York vs. Texas, 2010 (5 games)
4 — Josh Hamilton, Texas vs. New York, 2010 (5 games)
4 — B.J. Upton, Tampa Bay vs. Boston, 2008 (6 games)
4 — Evan Longoria, Tampa Bay vs. Boston, 2008 (6 games)
4 — Jim Thome, Cleveland vs. New York, 1998 (6 games)
3 — B.J. Surhoff, Baltimore vs. Cleveland, 1996 (3 games)
3 — B.J. Upton, Tampa Bay vs. Chicago, 2008 (4 games)
3 — Nomar Garciappara, Boston vs. Cleveland, 1998 (4 games)
3 — Bernie Williams, New York vs. Texas, 1996 (4 games)
3 — Jose Canseco, Oakland vs. Boston, 1988 (4 games)
3 — George Brett, Kansas City vs. New York, 1978 (4 games)
3 — Carlos Pena, Tampa Bay vs. Boston, 2008 (6 games)
3 — Bengie Molina, Los Angeles vs. New York, 2005 (5 games)
3 — Todd Walker, Boston vs. Oakland, 2003 (5 games)
3 — Bernie Williams, New York vs. Seattle, 2001 (5 games)
3 — John Valentin, Boston vs. Cleveland, 1999 (5 games)
3 — Darryl Strawberry, New York vs. Baltimore, 1996 (5 games)
3 — Todd Zeile, Baltimore vs. New York, 1996 (5 games)
3 — Paul O'Neill, New York vs. Seattle, 1995 (5 games)
3 — Dustin Pedroia, Boston, vs. Tampa Bay, 2008 (7 games)
3 — David Ortiz, Boston vs. New York, 2004 (7 games)
3 — Jason Giambi, New York vs. Boston, 2003 (7 games)
3 — Trot Nixon, Boston vs. New York, 2003 (7 games)
3 — George Brett, Kansas City vs. Toronto, 1985 (7 games)
National League
4 — Steve Garvey, Los Angeles vs. Philadelphia, 1978 (4 games)
4 — Bob Robertson, Pittsburgh vs. San Francisco, 1971 (4 games)
4 — Carlos Beltran, Houston vs. Atlanta, 2004 (5 games)
4 — Carlos Beltran, Houston vs. St. Louis, 2004 (7 games)
4 — Albert Pujols, St. Louis vs. Houston, 2004 (7 games)
4 — Jeffrey Leonard, San Francisco vs. St. Louis, 1987 (7 games)
3 — Cody Ross, San Francisco vs. Philadelphia, 2010 (3 games)
3 — Ken Caminiti, San Diego vs. St. Louis, 1996 (3 games)
3 — Hank Aaron, Atlanta vs. New York, 1969 (3 games)
3 — Shawn Green, Los Angeles vs. St. Louis, 2004 (4 games)
3 — Edgardo Alfonzo, New York vs. Arizona, 1999 (4 games)
3 — Ken Caminiti, Houston vs. Atlanta, 1999 (4 games)
3 — Jim Leyritz, San Diego vs. Houston, 1998 (4 games)
3 — Marquis Grissom, Atlanta vs. Colorado, 1995 (4 games)
3 — Vinny Castilla, Colorado vs. Atlanta, 1995 (4 games)
3 — Gary Matthews, Philadelphia vs. Los Angeles, 1983 (4 games)
3 — Rusty Staub, New York vs. Cincinnati, 1973 (5 games)
3 — Bill Madlock, Los Angeles vs. St. Louis, 1985 (6 games)
3 — Carlos Beltran, New York vs. St. Louis, 2006 (7 games)
3 — Carlos Delgado, New York vs. St. Louis, 2006 (7 games)
3 — Scott Rolen, St. Louis vs. Houston, 2004 (7 games)
3 — Lance Berkman, Houston vs. St. Louis, 2004 (7 games)
3 — Jeff Kent, Houston vs. St. Louis, 2004 (7 games)
3 — Miguel Cabrera, Florida, vs. Chicago, 2003 (7 games)
3 — Aramis Ramirez, Chicago vs. Florida, 2003 (7 games)
3 — Alex S. Gonzalez, Chicago vs. Florida, 2003 (7 games)
No Comments