Atlanta Braves Throw A Changeup: Beachy To Start Against Phillies
Added on Sep 20, 2010 by Evan Walker in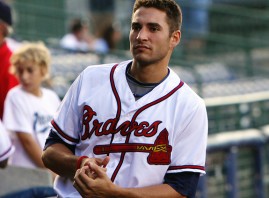 For Game 1 of  the biggest regular-season series the Braves have known since 2001, they're handing the ball to rookie Brandon Beachy, who had never before pitched a big-league inning.
Jair Jurrjens was the scheduled starter before he was scratched due to "an MRI result on his tender knee." In other words,  Jurrjens' ERA in his last two starts is above eleven and the Braves are more confident in Brandon Beachy to keep them in the ball game.
Beachy combined to go 5-1 with a 1.73 ERA — the best ERA posted in the Minor Leagues — while playing for Triple-A Gwinnett and Mississippi this year. He was 2-0 with a 1.73 ERA in seven starts after being promoted to Gwinnett.
"We have a lot of confidence in him," Braves GM Frank Wren said. "He's done everything we could have asked from him."
Again, this is not just a normal regular season game. The last two series against the Phillies are easily the most important games in recent Atlanta Braves history and they could either catapult the Braves into first place or create more breathing room for the Philadelphia Phillies.
The Phillies have decided to order their pitching rotation so that Atlanta must face their "Big Three", Cole Hamels, Roy Halladay, and Roy Oswalt.
Bobby Cox and the Braves have chosen a different approach.
After Beachy, the Braves will start another rookie, Mike Minor and the flaming-hot Tommy Hanson in the third game.
No Comments