Baseball Betting: Colorado Rockies at Atlanta Braves
Added on Sep 04, 2012 by Jack Thurman in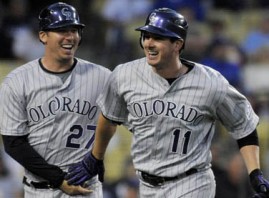 The Atlanta Braves try to keep pace with the Washington Nationals atop the NL East as they host the Colorado Rockies on Tuesday night. Atlanta has been treading water in recent weeks and are still 6.5 games back of the division leaders. Colorado is well out of contention but have been playing reasonably well in the past few weeks.
Colorado Rockies at Atlanta Braves
September 4, 2012 4:10 PM Pacific

Every season on September 1 Major League Baseball team rosters expand from 25 players to 40 players. This gives teams greater depth for the stretch run and allows teams that are out of the playoff hunt the opportunity to evaluate prospects from the minors in 'real world' big league games. This also significantly complicates the handicapping process for the baseball bettor. A team that has done nothing for the past couple of months can be sparked by a few hard trying youngsters and become a 'play on' down the stretch. The opposite can also be the case–teams that have been good investments can become bumbling and incompetent with inexperienced prospects in the starting lineup. For that reason, many baseball bettors limit their focus to matchups involving teams that are in playoff contention at this stage of the season.
The Atlanta Braves have been in second place in the NL East for awhile and haven't had much success in closing the gap with the first place Nationals. They've also got to be concerned with the wild card standings since they don't have a huge lead in that area either. On paper they should make short work of the Rockies, but there's at least one good reason to back the visitor–aside from the overly inflated prices on the home team. Colorado will start Drew Pomeranz–he may not be one of the top lefthanders in baseball but that may not even matter against an Atlanta team that has been at their worst against southpaws. Atlanta has made money in virtually every situational category–except facing left handed pitching where they've got a losing record of 25-28 -6.4 units. They also average a half run less per game against lefthanders than they do in all games.
At this stage of the season and in this price range that's enough to take a flyer on a Colorado team that has shown some moxie down the stretch. Atlanta's struggles against lefthanders could make Pomeranz look better than he actually is and at any case the value is clearly on the road underdog here.
Bet Colorado Rockies (Pomeranz) +190 over Atlanta Braves (Hanson)
No Comments