Baseball Betting: Philadelphia Phillies at Cincinnati Reds
Added on Sep 04, 2012 by Jack Thurman in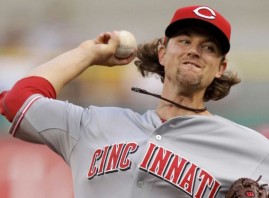 The Cincinnati Reds are methodically pulling away from their NL Central rivals and they'll look to put the Pittsburgh Pirates and St. Louis Cardinals further in their rear view mirror as they host the disappointing Philadelphia Phillies on Wednesday. The teams have split the first two of this three game series as well as six total games head to head this season.
Philadelphia Phillies at Cincinnati Reds
September 5, 2012 9:35 AM Pacific
The Philadelphia Phillies deserve a lot of credit for continuing to scrap despite being well off the pace in the NL East and suffering through a profoundly disappointing season. That being said, they continue to be overvalued by baseball bettors relative to their performance in 2012. The Phillies are -19.6 units on the season though they are very close to breakeven on the road (-1.3 units). They've been at their worst against opponents with winning records–against teams over .500 the Phills are -17.8 units on the season.
So why are they favored here? That's because of the 'name value' of starter Roy Halladay who spent much of the season on the injured reserve list. He's been serviceable since his return to action but far from his usual dominant self. Despite putting up numbers that are far from overwhelming the betting public continues to bet him as if he were in Cy Young candidate form. Halladay has allowed 11 earned runs in his last three starts (5.30 ERA) and was pounded in his last assignment against the Atlanta Braves. Halladay pitched only 4 2/3 innings giving up 7 hits and 4 ER but was bailed out by his teammates–and by a rare collapse from the Atlanta bullpen–as the Phillies would eventually scrap out the win.
The Reds will counter with Mike Leake who was in awful form to start the season but has been decent since. He's not a 'stopper' but is a competent righthander. The important thing in this matchup, however, isn't the starting pitching matchup but the rest of the team–top to bottom the Reds are a vastly superior team. In marked contrast to the Phillies' struggles against opponents with winning records the Reds have dominated opponents with losing records. Against opponents with a record of .500 or worse the Reds are 49-28 +12.2 units. Reds are the better team and we're getting them at a discount price.
Bet Cincinnati Reds (Leake) +100 over Philadelphia Phillies (Halladay)
No Comments