Baseball Betting Picks: New York Yankees at Baltimore Orioles
Added on Sep 06, 2012 by Jack Thurman in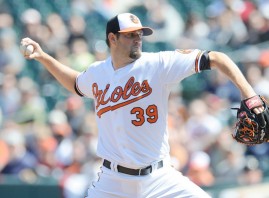 The New York Yankees won on Wednesday night and combined with a Baltimore loss climbed back in to sole possession of first place in the AL East. That's not much consolation, however, and the Yankees are playing their worst baseball of the season and the least opportune time. It wasn't that long ago that New York had a ten game lead in the division and was threatening to run away with the title. That was before they went into a tailspin while Baltimore and Tampa Bay embarked on winning streaks. Now the Yankees have a 1 game lead over the Orioles and a 2 1/2 game over the Rays as they begin this huge four game series at Camden Yards.
New York Yankees at Baltimore Orioles
September 6, 2012 4:05 PM Pacific
The Yankees may have stopped their slide on Wednesday but that doesn't do much to change the urgency of the situation. They've been playing .500 baseball for the past six to eight weeks while the Orioles have been winning games at a furious clip. And despite the temporary setback of a loss at Toronto on Wednesday we're expecting this dynamic to continue. The Yankees' pitching has struggled, they've got a lot of injuries to deal with and have to worry not only about the Orioles but Tampa Bay.
Baltimore has been the most profitable team for baseball betting enthusiasts this season, piling up nearly 30 units of profit (28.9 units to be exact). They've made money in just about every situation but have been exceptionally impressive against teams with winning records, going 46-35 +23.8 units against foes with a better than .500 record. They've also brutalized right handed pitching (+17.6 units) and divisional rivals (+17.1 units). New York's David Phelps has pitched fairly well since joining the rotation but he's been far from dominating and certainly no better than Baltimore starter Jason Hammel. The O's have won 5 of Hammel's eight starts at Camden Yards this season and at a 'pick'em' price there's no good reason not to back the Orioles. They're playing on their home field, are in better form, and have produced huge profits all season long. A lot can happen in the final month of the regular season but we're not convinced that the Yankees have solved their problems.
Bet Baltimore Orioles (Hammel) -110 over New York Yankees (Phelps)
No Comments