Baseball Betting Picks: San Diego Padres at Colorado Rockies
Added on Sep 02, 2012 by Jack Thurman in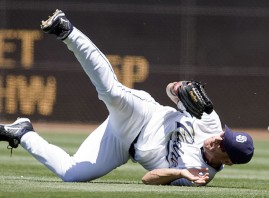 The San Diego Padres have been one of the biggest moneymakers in baseball during the last couple of months and they'll look to add to their profits as they take on the Colorado Rockies in the last of a three game series at Coors Field. San Diego was horrible in the first month of the season but recovered to play .500 ball shortly thereafter. Over the past two months they've done much better than that and actually have an outside chance of catching Arizona for third place in the NL West.
San Diego Padres at Colorado Rockies
September 2, 2012 12:10 PM Pacific
The San Diego Padres lost to the Colorado Rockies on Saturday, a result that wouldn't be particularly significant were it not for the fact that they haven't lost much lately. Even with Saturday's setback the Padres have won 10 of their last 12 games. They've clawed their way into the black for the year on the road and will give the baseball to their talented young starter Casey Kelly in this game. Kelly pitched 6 innings of 3 hit, shutout baseball against Atlanta in his big league debut on 8/27 and will get his first look at Coors Field here. He'll be opposed by one of the few bright spots in the Rockies season, veteran lefthander Jeff Francis who has won 11 of his 17 starts in a Colorado uniform.
To their credit, the Rockies have won 9 of their last 13 games but we're not convinced that this streak isn't more of a function of a favorable schedule than anything else. San Diego, on the other hand, has been facing a series of playoff contenders during their torrid run in August and early September. Colorado has lost a ton of money at Coors Field this year (-13.2 units) and have been especially awful in daytime games (13-30 -16.8 units). We respect Francis but see a lot more upside with the plucky Padres. San Diego has won 3 of the last five meetings against the Rockies and have no reason to think they won't be competitive down the stretch. Look for San Diego to start another new winning streak before heading to Los Angeles for a series against the slumping Dodgers.
Bet San Diego Padres (Kelly) +100 over Colorado Rockies (Francis)
No Comments