Braves Fail To Gain Ground on Phillies
Added on Sep 15, 2010 by Evan Walker in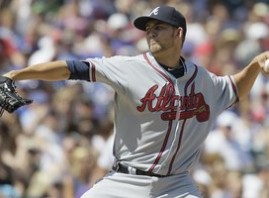 The Atlanta Braves have witnessed their lead over the Phillies in the National League East slip right through their fingers.
The Philadelphia Phillies are taking advantages of the the Braves' recent  blunders and winning crucial games when the Braves drop them.
Once again on Wednesday night, Atlanta dropped a game against the Washington Nationals while the Phillies crushed the Marlins in Miami.
Now, Atlanta finds the San Francisco Giants creeping up on them, only one game behind them in the Wild Card race.
If the Braves continue to play like they have in the last couple of weeks, the Giants could very well end the Braves skipper's Hall of Fame career on a low note and send the Philadelphia Phillies off to the postseason once again.
The series that everyone is talking about will take place on the 20th of September, when the Braves head to Philadelphia and try to claim their division crown back from the hands of Howard and Halladay.
However, the Phillies may very well be the best team in baseball right now and if the Braves want to take the lead back from the Phillies, they will have to pry it from their cold dead fingers.
The series on the 20th will be the first of the last two meetings between Atlanta and Philadelphia this year.
The final time that these two teams meet in the regular season will be the last series of the year – in Atlanta.
No Comments