Cain, Renteria leads Giants to 2-0 World Series lead
Added on Oct 29, 2010 by Ted Sillanpaa in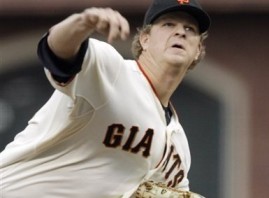 Matt Cain pitched 7 2/3 masterful innings and the San Francisco Giants erupted for seven runs in the eighth inning to defeat the Texas Rangers, 9-0, in Game 2 of the World Series on Thursday night.
The Giants have 2-0 Series lead entering Saturday's Game 3 in Texas. San Francisco left-hander Jonathan Sanchez will face Texas right-hander Colby Lewis.
Of the past 51 teams to take a 2-0 lead in the World Series, 40 have won the title — including seven straight times and 13 of the last 14 times a team has taken a 2-0 lead.
"We've just got to take that confidence and some of the good approaches that we've had into these last two games and take them down to Texas with us," Cain said after departing with a 2-0 lead.
Cain allowed all four hits, and has allowed only a single and an unearned run in 21 1-3 innings over three postseason starts. He joined the Giants' Christy Mathewson (1905) and Carl Hubbell (1933), the Yankees' Waite Hoyt (1921) and Detroit's Kenny Rogers (2006) as the only pitchers to allow no earned runs in 20 or more innings in a single postseason.
Edgar Renteria hit a home run to give the Giants a 1-0 lead. He finished with three RBIs.Not bad for a team that scored 19 runs in its six-game NL championship series win over Philadelphia.
"Unbelievable," said Renteria, who has just eight regular-season homers in the last two years. "You guys know I have power."
No Comments