Giants-Rangers: Improbable foes to collide in World Series
Added on Oct 24, 2010 by Ted Sillanpaa in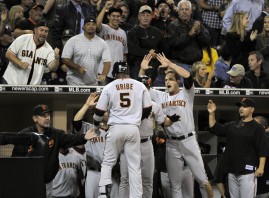 Tim Lincecum and the Giants face postseason standout Cliff Lee and the Rangers in a most improbable World Series matchup that begins Wednesday night in San Francisco.
Coincidentally, the Giants and Rangers met in the first Major League Baseball interleague game in 1997. The stakes will be considerably higher when they meet this time around.
The Giants got a home run from Juan Uribe to stun the Phillies, 3-2, in Game 6 and win the National League Championship Series in Philadelphia on Saturday.
The Giants rallied from a 2-0 deficit. Uribe's home run came off of Ryan Madsen, who had not allowed a run in the postseason.
San Francisco manager Bruce Bochy called on Lincecum in relief to start the eighth inning. He struck out Jayson Werth before yielding two hits. Closer Brian Wilson got the final five outs, but not before the Phillies got the potential tying run on second base in the bottom of the ninth inning.
The Giants haven't won the World Series since moving to San Francisco in 1958. The New York Giants won in 1954. The Rangers finally made it this far in the franchise's 50th season. The franchise began as the expansion Washington Senators in 1960
Texas pitcher C.J. Wilson quickly tweeted a challenge to Giants closer Wilson: "See your beard soon mr wilson."
"Sounds delicious," Brian Wilson said. "We'll be coming."
Unlikely MVP Cody Ross and the Giants clinched their spot Saturday night when Wilson struck out Ryan Howard to escape a ninth-inning jam, denying the Phillies a third straight trip to the World Series.
Josh Hamilton won the MVP award as Texas eliminated the defending champion New York Yankees in Game 6 of the ALCS on Friday night.
The NL finally won an All-Star game to earn home-field advantage in the World Series. The Giants are 9-0 against Texas in in San Francisco.
Texas has lost 11 straight at San Francisco dating to 1998.
So much for meaningless numbers.
There is an interesting, meaningful connection between the clubs. Eager to get rookie Buster Posey behind the plate on a regular basis, the Giants traded veteran catcher Bengie Molina to Texas on July 1.
Posey blossomed into a Rookie of the Year candidate, excelling as a catcher and hitter. He homered on the final day of the regular season as the Giants clinched the NL West, then contributed throughout the postseason as they reached the World Series for the first time since Barry Bonds led them there in 2002.
No Comments