Giants rookie Bumgarner blanks Rangers in Game 4
Added on Nov 01, 2010 by Ted Sillanpaa in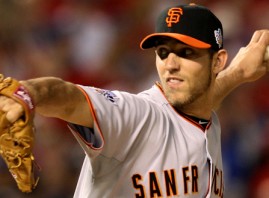 ARLINGTON, Texas — Rookie Madison Bumgarner threw a World Series masterpiece to push the San Francisco Giants to within one win of the world championship on Sunday night.
The 21-year-old left-hander worked eight scoreless innings in a 4-0 shutout of Texas in Game 4, putting San Francisco just a victory away from it's first World Series crown since 1954.
"We've got the team to do it," Bumgarner said after closer Brian Wilson came on in the ninth inning to finish off the Rangers.
Bumgarner, the 10th overall pick in the 2007 amateur draft, allowed only three hits over eight innings.
Aubrey Huff and Buster Posey backed their young lefty with home runs and San Francisco put on a fielding clinic.
Tim Lincecum faces Texas ace Cliff Lee in Game 5 Monday night in Texas.
Only six teams in World Series history have overcome a 3-1 deficit, mostly recently Kansas City in 1985.
"With a win, I usually sleep pretty good in the playoffs, with a loss pretty shaky. Hopefully we sleep good tonight. We've got a big challenge tomorrow with Cliff Lee," said San Francisco's Aubrey Huff, who homered to give the Giants an early lead.. "We got him last game, but you know he's going to come out and really want to get us."
Bumgarner and Wilson made the Giants the first team to post two shutouts in a World Series since Baltimore threw three straight to close out the Dodgers in 1966.
"It's certainly been pitching as advertised," Texas manager Ron Washington said. "They've got good stuff. They've got velocity. They can spin the baseball. They can change speeds and they keep their defense engaged."
Catcher Buster Posey added a solo home run in the eighth inning for San Francisco. Edgar Renteria, who had three hits, singled for the Giants and scored on Andres Torres' double. Torres doubled twice and added a single in the win.
Bumgarner and Posey became the first rookie battery to start in the Series since Spec Shea and Yogi Berra for the Yankees in 1947.
No Comments