Hoffman Makes History: Saves 600th Game
Added on Sep 08, 2010 by Evan Walker in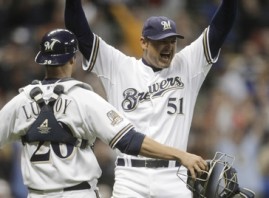 "It's hard to describe this moment. Just … thank you. Thank you to everybody that stuck around. Thanks for enduring a long season. Thank you to my family on the field and the family off the field. What tremendous support I've been given by everyone. … I appreciate every one of you guys. I hope we all remember this forever."
That is what the emotional all-time saves leader Trevor Hoffman had to say after beating the St. Louis Cardinals and accomplishing something that no one in the live-ball era has ever been able to achieve – saving the 600th game of his career.
Don't worry Trevor, your accomplishment will not be forgotten.
Hoffman's season for the Milwaukee Brewers did not start out exactly as he planned.
After losing his job as the closer, Hoffman had to scratch and claw through the bullpen to earn his 600th. It took  three months to jump from 596 saves to 600.
Hoffman was already the all-time saves leader before Tuesday night, but the journey to 600 was a long and difficult one and you can be sure that Hoffman and the rest of the Brewers sighed a deep sigh of relief when the milestone was achieved.
Yankees closer, Mariano Rivera is only five saves behind Hoffman on the all-time list and he will probably reach the same milestone before the season ends.
There is almost no question that both of these relievers are destined for the halls of Cooperstown.
No Comments