How The West Is Won: Padres and Giants Open Crucial Series
Added on Sep 09, 2010 by Evan Walker in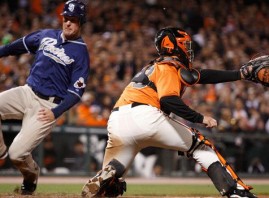 The upcoming series between the San Diego Padres and San Francisco Giants may very well decide how the west is won.
Tonight in San Diego, the Padres, leaders in the NL West, start a four-game series vs. the Giants. The Giants are two games behind the Padres.
San Francisco is 7-3 in their last 10 games while the Padres are bouncing back from a season-worst 10 game losing streak. They are 3-7 in their last 10.
In the first game of the series, Jon Garland will take the mound for San Diego going up against Matt Cain for the Giants.
The Sunday match-up between two-time Cy Young Award-winning Tim Lincecum and young Matt Latos could very well be one of the best pitchers duels of the season. Latos (14-5) has made 15 starts in a row in which he has gone at least five innings and allowed two runs or fewer, a Major League record. Lincecum (13-9) has won his past two starts after an 0-5 August.
If the Giants can win the series, they will be on top of the NL West for the first time this year, but given their lack of success against San Diego this year, a series tie would be an improvement.
There are a lot of teams in the playoff race who will have a close eye on this series. The Atlanta Braves are only a game and a half ahead of San Francisco in the NL Wild Card race and the streaking Colorado Rockies sit just two games back from the Giants in the Wild Card standings.
No Comments