Ichiro Makes History: Gets No. 200
Added on Sep 24, 2010 by Evan Walker in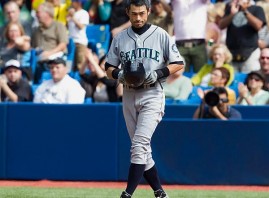 Last night, when Felix Hernandez and Seattle the Mariners traveled to Toronto to face the Blue Jays, Ichiro Suzuki became the first player in the history of Major League Baseball to collect 200 hits in 10 consecutive seasons.
Pete Rose is the only other player to have 10 seasons with 200 hits.
After a first-pitch single to center field, Ichiro's Seattle teammates came to the top step of the dugout to applaud, and Ichiro tipped his cap as the crowd gave him a 30-second standing ovation.
We have witnessed this future Hall of Famer reach this mark since his rookie campaign and it never seems to get old.
"I think you can imagine how happy I am," Ichiro told the Seattle Times through an interpreter. "I know how tough it is to accomplish 200 hits every season. It's been tough this year, so that's how happy I am inside."
Ichiro's 200 hits lead MLB, making this the seventh year he's earned that distinction. He surpassed Willie Keeler, who had nine consecutive seasons of 200 or more hits from 1894 to 1901. He also holds the single season hits record with 262.
Also worth noting from this game – Jose Bautista launched his 50th homerun of the season – the first player to do so since 2007 – and King Felix only gave up one run over eight innings.
No Comments