Jimenez Wins His 18th: Rockies Gain Ground
Added on Sep 06, 2010 by Evan Walker in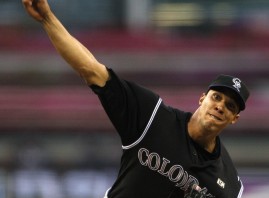 Ubaldo Jimenez may not have been exactly lights-out on Monday afternoon against the Reds, but with the help of Carlos Gonzalez and Troy Tulowitzki, he did enough to get the job done and win his 18th game of the season.
Jimenez struck out eight and walked six while Gonzalez and Tulowitzki combined for five RBIs and both scored a run a piece.
Jimenez surpassed teammate Jeff Francis (2007) and former Rockies hurlers Pedro Astacio (1999) and Kevin Ritz (1996) for the most wins in franchise history.
More importantly, Jimenez moved the Rockies to just four games back in the National League West and 4 1/2 games out of the Wild Card race.
The Rockies will be sitting in their living rooms, watching the Padres face the Los Angeles Dodgers in hope that the Dodgers can hand the friars their 11th consecutive loss and move the Rockies even closer to the postseason.
Jimenez could become the first pitcher in baseball with 20 wins this season and the first National League pitcher to win 20 games since Brandon Webb did it for the Arizona Diamondbacks in 2008.
With another solid performance, Carlos Gonzalez brought his batting average up to  a league-best .340 and his 97 RBIs and 31 home runs are right behind Joey Votto and Albert Pujols for the league lead.
The Rockies can see the gleaming light of October at the end of the tunnel and that light is getting closer and closer with every day that passes and every game that the Padres fail to win.
No Comments